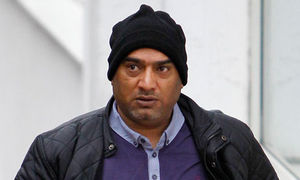 Men plied girls as young as 13 with drink and drugs in order to use them for sex, jury heard
Nine men have been found guilty of being part of a child sexual exploitation ring involving vulnerable girls.
Five girls were "shared" by Kabeer Hassan, Abdul Aziz, Abdul Rauf, Mohammed Sajid, Adil Khan, Abdul Qayyum, Mohammed Amin, Hamid Safi and a 59-year-old man who cannot be named for legal reasons in and around Rochdale, Greater Manchester.
A jury at Liverpool crown court heard that the defendants plied the vulnerable girls, some as young as 13, with fast food, drink and drugs so they could "pass them around" and use them for sex. One 13-year-old victim became pregnant and had the unborn child aborted.
Another gave evidence of being raped by two men while she was "so drunk she was vomiting over the side of the bed". She later cried herself to sleep.
The court heard that some of the girls were raped and physically assaulted and some were forced to have sex with "several men in a day, several times a week".
During an 11-week trial, jurors heard how five vulnerable teenagers were "shared" by Hassan, 25, Aziz, 41, Rauf, 43 Sajid, 35, Khan, 42, Qayyum, 43, Amin, 44, Safi, 22, and the 59-year-old, who were all convicted of conspiracy to engage a child under 16 in sexual activity.
Qamar Shazad, 30, was cleared of both charges he had been accused of - the child sex conspiracy charge and rape. Jurors were unable to reach a verdict on Liaquat Shah, 41, on the conspiracy charge - which was formally dropped by the prosecution - and he had also previously been cleared of two rapes by the jury. The jurors deliberated for more than 21 hours before reaching all their verdicts.
Safi was also convicted on a trafficking charge within the UK.
The 59-year-old defendant was also convicted of two rapes dating back to 2008, aiding and abetting a rape, sexual assault and trafficking within the UK for sexual exploitation.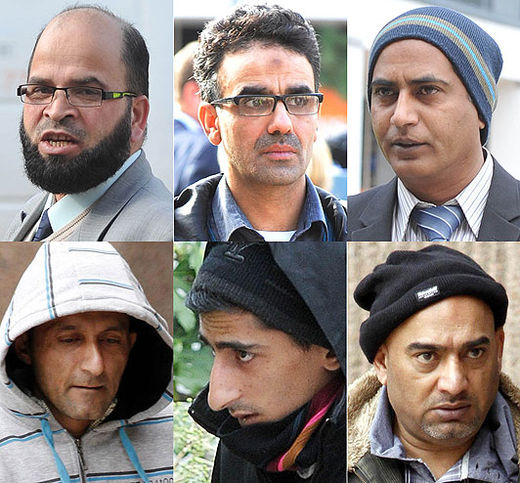 Greater Manchester police is conducting an inquiry, supervised by the Independent Police Complaints Commission, over the original botched investigation four years ago after the CPS decided not to prosecute two men, including the 59-year-old.
Hassan, from Oldham, was convicted of rape and Aziz, of Rochdale, was convicted of trafficking for sexual exploitation but cleared of two rapes.
Khan and Rauf, of Rochdale, were convicted of trafficking for sexual exploitation within the UK. Sajid, also of Rochdale, was convicted of trafficking, one count of rape and one charge of sexual activity with a child. Sajid was cleared of a second rape charge.
Amin, from Rochdale, was convicted of sexual assault. Khan was found guilty of trafficking one of the girls within the UK and Sajid was convicted of trafficking another of the girls, also within the UK.
The jurors were told that the men - who are all of British Pakistani heritage, apart from Safi, who is from Afghanistan - groomed the teenage girls, who were vulnerable because of their chaotic lifestyle, hanging round kebab shops late at night and befriending the staff who worked there. The court heard that they acted together to sexually exploit the girls.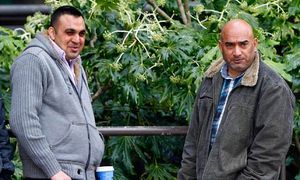 The jurors retired to consider their verdicts last week and returned partial verdicts last Thursday, which were subject to reporting restrictions. The trial was almost derailed when the BNP leader, Nick Griffin, tweeted that seven verdicts had been reached, which was an alleged contempt of court, and he could still face court action. It is not clear how he learned of the jury's decision as reporting restrictions were in place at the time. The remaining verdicts were returned on Tuesday.
The trial judge, Mr Justice Clifton, will sentence the nine men on Wednesday.
The Rochdale MP, Simon Danczuk, criticised the police for their inaction four years ago. He said: "What has become clear is that if the police had acted seriously on these concerns in 2008, many of the victims of this appalling case would not have to go through such horrific trauma." He said it was unacceptable that the young women were let down by people they should have been able to trust.
Shazad, who was cleared of both charges, said he was delighted with the verdict. He said he was an innocent man and was glad the jury had believed him. His reputation had been badly damaged after his arrest but he could now go back to his life as an innocent man with his head held high, he said.