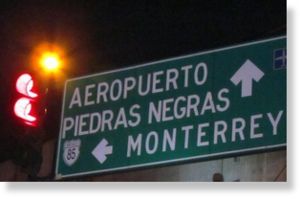 The northeast Mexico border city of Nuevo Laredo saw a brutal day of gang violence, with 14 headless bodies found stuffed in a vehicle and nine others hanging from a bridge.
Fourteen heads believed to correspond to the decapitated bodies were also found in ice boxes outside the city hall on Friday, according to local security forces in the city of almost 400,000 inhabitants across the border from Laredo, Texas.
Horrified motorists earlier encountered the blood-stained bodies of four women and five men hanging off a bridge, alongside an apparent message from a drug gang.
The grim spectacles were extreme even for Nuevo Laredo and the northeastern state of Tamaulipas, which have seen some of the most gruesome episodes in Mexico's brutal five-and-a-half year drug war so far.
State security forces and soldiers cordoned off the areas where the bodies were found and gave no immediate comment.
Nuevo Laredo, the main road trade crossing from Mexico into the United States, is regularly the scene of vicious disputes between the Zetas drug gang --
set up by ex-elite soldiers-turned-hitmen in the 1990s
-- and their former employers the Gulf cartel, now believed to be allied to the Sinaloa cartel of billionaire fugitive Joaquin "El Chapo" Guzman.
Last month the dismembered remains of 14 men were found inside a van left near Nuevo Laredo city hall. Days afterwards a car exploded outside police headquarters.
In neighboring Veracruz state, further south on the Gulf of Mexico, security forces Thursday found the dismembered bodies of two missing news photographers and two others, just days after a magazine reporter was killed in the same state.
The two photographers, Gabriel Huge and his nephew Guillermo Luna, were buried in Veracruz city on Friday.
As in Tamaulipas, many crime reporters have fled Veracruz in recent months amid threats and drug gang turf battles.
Mexico has seen a rise in gangland-style violence blamed for more than 50,000 deaths since the start of a nationwide military crackdown on organized crime in December 2006.