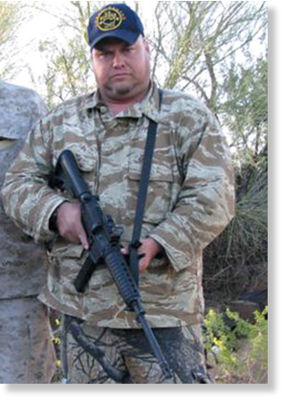 Gilbert Police Sergeant Bill Balafas said they believe 39-year old Jason Todd Ready was the gunman in Wednesday's shootings, an apparent-murder- suicide.
Police say they believe a former Marine with ties to neo- Nazi and Minutemen groups is responsible for shooting four people and taking his own life in a suburban Phoenix home.
"It's safe to say this was a domestic-violence incident," said Balafas.
Authorities say that the four others killed were 15-month- old Lily Lynn Mederos; 23-year-old Amber Nieve Mederos; 47-year-old Lisa Lynn Mederos and 24-year-old Jim Franklin Hiott.
Media reports say Lisa Mederos was Ready's girlfriend and Amber and Lily were her daughter and granddaughter.
Ready was known in Arizona for organizing a militia in the desert with the goal of finding illegal immigrants and drug smugglers. The 39-year-old outfitted himself with military fatigues, body armor and gas masks, and carrying assault rifles.
Gilbert Police expect the autopsies and ballistics reports to be completed before the end of business Friday. All five bodies are the medical examiner's office.
Investigators will recanvass the neighborhood and look further into the backgrounds of the deceased.
The FBI is on the scene investigating because of the "military-grade" munitions and two barrels of chemicals found at the home. All of the munitions and chemicals were removed Wednesday night.
Police are still investigating the shooting, but a post on Ready's Facebook page claimed the shooting was a hit carried out by a Mexican drug cartel.
Reports are unconfirmed that a cartel assassination squad murdered JT Ready and several of his friends and family this afternoon in Gilbert, Arizona. This page's admin will keep you updated of the situation as soon as possible.
The Anti-Defamation League had identified Ready as a neo- Nazi, anti-immigration extremist and white supremacist, according to the organization's website.
Stay with KTAR for updates as the story develops.