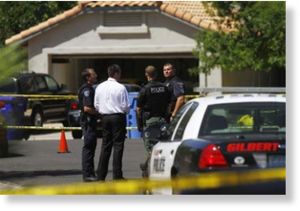 Gilbert, Arizona - A gunman shot and killed four people including a toddler girl in a Phoenix suburb on Wednesday afternoon before apparently committing suicide, police said.
Gilbert Police Sergeant Bill Balafas said the gunman opened fire at or near a house in a neighborhood of single-family homes in the town of Gilbert. Police recovered two handguns and a shotgun from the scene.
The youngest victim, a girl of between one and two years old, was still alive at the scene, but later died in a hospital, Balafas said. The other dead were two men and two women. Police believe the shooter was among the dead.
Local resident Scott Kirkwood, 43, said neighbors were shocked by the shooting at the home, which he believed was occupied by a family.
"Everyone is shocked and concerned, nothing like this ever happens in this neighborhood, it's usually very quiet," he said.
"I heard sirens pulling up in my backyard, when I went to investigate there was like 30 cop cars, five ambulances, a fire truck, a SWAT team, the whole nine yards - it was just blanketing the neighborhood," he added.
Officers are currently interviewing a witness to the shooting, which investigators believe stemmed from a "domestic situation," Balafas said.
Two nearby schools were briefly placed on lockdown immediately following the incident, according to news reports.