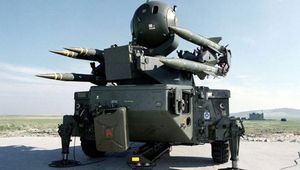 Residents of an East London apartment complex have new, perhaps unwanted neighbors on their roofs: a dozen armed soldiers and surface-to-air missiles.
As part of the largest peacetime mobilization in British history, the military is installing the missile system in order to protect the Olympic stadium, which the apartment complex overlooks.
Residents of the private gated Bow Quarter complex in the London borough of Tower Hamlets took to Twitter this morning to post photos of soldiers arriving with pieces of the missile launchers. The military chose the seven-building residential property, according to a leaflet given to the 700 residents over the weekend, because of a 100-foot-high tower that has unobstructed views of the Olympic complex.
The missiles in this week's test are dummies, and the U.K.'s Ministry of Defense has not yet made a final determination about where missiles will be sited for the 2012 Olympics, which begin on July 27.
The most outspoken residents of Bow Quarter, however, all oppose the presence of the military and the missile system, saying the military failed to consult them and they worry that the missiles would make them even larger targets.
"I'm not sure I can sleep in a house knowing there are missiles on the roof," journalist Brian Whelan, who has led the effort to object to the missiles presence, told ABC News in an interview in his apartment. "There was no prospect of this building ever being attacked as a terrorist target. Putting missiles on the roof -- if there was ever to be a threat -- certainly raises that threat. "
The London Olympics is a major terror target, and
British officials have been working for years on a security program that
is projected to cost the city over $896 million, at the same time it
is cutting major services for the poor and elderly
.
The Ministry of Defense has defended the decision to position missiles on residential rooftops as a necessary precaution.
"The safety of the games is paramount and for the last six months, working alongside the police, the MoD has conducted a broad range of community engagement where ground-based air defense may be sites," the U.K.'s Ministry of Defense said in a statement in response to the criticism. "We want to cause as little disruption to people going about their business a possible -- but at the same time the public expects that we take all those steps necessary to protect them."
More than 13,000 troops will be deployed as part of the security operation at next year's Olympic Games. Officials said that in all, the force will be larger than Britain's current military presence in Afghanistan. In addition, at least 20000 police and private security officials will patrol London, which already has a network of half a million cameras watching every inch of the city.