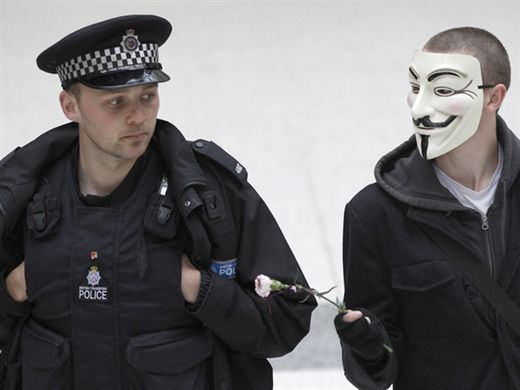 Protesters across the world hit the streets Tuesday on May Day to rally against austerity measures and call for higher wages and more jobs. In the United States, the protests are seen as the biggest test for the Occupy movement since many of its camps were shuttered late last year.
Occupiers in more than 100 cities across the country were expected to protest on the day that traditionally celebrates workers' rights.
Demonstrators in New York will hold a "free university" and a "Guitarmy" will lead a march; in Nashville, they will hold a torchlight procession to commemorate worker struggles and victories; and in Oakland, they plan to occupy Child Protective Services and picket business associations.
"We've got hundreds of people out already and I know a lot of people are going to be trickling in as the day goes along. We've had pickets at the Bank of America, Chase, Disney," Mark Bray of the Occupy Wall Street PR team said as protesters chanted "We are the 99 percent" in the background. "(The) mood is very spirited, the rain is lightening up... ."
Dorian Warren, an assistant professor of political science at Columbia University, said he thought Tuesday would be the "biggest test since the fall of where Occupy is."
"I think it's still alive and thriving. I don't think it's going anywhere soon," he said. "But I think after [Tuesday] we'll know whether or not they were hibernating all winter and now they've re-emerged, or if they've died out."
Occupy held protests during the spring on student debt and worker rights. They also have been working on a rollout of new versions of outreach websites to facilitate coordination among different Occupy outfits. But a lot of effort has been focused on holding a May Day that will make a splash.
"Many activists have been working toward May Day for months and so they've decided to make it a test of strength," said Todd Gitlin, a former leader of the 1960s-era group, Students for a Democratic Society, who has just published a book on Occupy. He added: "A lot of people in the larger society don't think the movement still exists, so there's some need to prove to them that it does exist."
Occupy Wall Street has struggled during the last months without a camp, with some members starting their own groups while keeping a loose affiliation to the movement.
"It's become fractured over time and I think people point a lot to that to the breakup of Zuccotti Park, and the natural disagreements that people had came more to the fore when people were separated and people formed their own circles upon which they continued. But it wasn't the circle of great diversity that was right there at Zuccotti Park and people could grow from," said William Johnsen, a 63-year-old veteran activist from Staten Island, N.Y. "It's obviously a long-term process right now which will ultimately change into something else."
But Konrad Cukla, a 23-year-old graduate student who has been helping with Occupy May Day planning, said that since the park shut, occupiers have been engaging in key coalition building work, such as with immigrant rights groups in the city.
"All the labor unions have come together and for the first time are going to have a unified march with immigrant rights groups and Occupy," he said as he walked with other a musical band of occupiers -- the Rude Mechanical Orchestra -- dressed in green and black on Manhattan's 5th Avenue. "I think the movement is evolving, it's taking on more concrete allies and issues, engaging more with labor struggles -- also just expanding its horizons and bringing more people into the movement."
In San Francisco, Golden Gate ferry workers planned to hold a morning strike in the North Bay, but union organizers cancelled a protest on the Golden Gate Bridge to give support to the ferry workers,
the Oakland Tribune
reported.