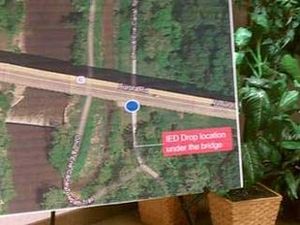 Five people, claiming to be anarchists, have been arrested in Cleveland for trying to blow up a four-lane bridge across the Cuyahoga Valley National Park.
The public was never in danger from the devices, according to Fox News.
The explosive devices were inoperable and controlled by an undercover FBI agent
. Charges were against the suspects were filed Tuesday morning in Cleveland.
Douglas Wright, 26, Brandon Baxter, 20, and Anthony Hayne, 35, were arrested Monday and charged with conspiracy and attempted use of explosive material to damage physical property affecting interstate commerce, according to WEWS-NewsNet5 in Cleveland. Two other men, Connor Stevens, 20, and Joshua Stafford, 23, were also arrested, but not charged, the station reported.
The suspects were targeting the state Route 82 bridge that spans the Cuyahoga Valley National Park, according to WEWS. The suspects had bought fake explosives and placed them near the bridge Monday. The suspects were arrested after 9 p.m. Monday, the station reports.
The suspects had considered a series of plots over several months. Among the alternative targets was the Veteran's Memorial Bridge, according to WEWS. One of the suspects, Wright, had talked about driving a car into the Federal Reserve Bank to blow it up,
the Cleveland Plain Dealer reports
.
The FBI's Cleveland office is displaying a photo of the apparent bridge in question, according to WEWS-NewsNet5 in Cleveland. The state Route 82 bridge is in Brecksville, south of Cleveland.