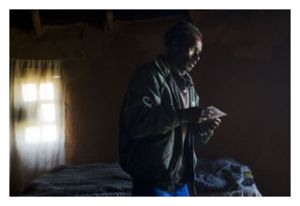 Johannesburg - Long after they left the gold mines, death stalks tens of thousands of South Africa's former miners.
They fight for breath, their chests tight and bodies weak: Years of inhaling dust caused many ex-miners to contract silicosis, an incurable lung disease that often leads to tuberculosis and can be fatal.
High-profile lawsuits are bringing new attention to silicosis, described by medical expert Tony Davies as a "river of disease flowing out of the South African gold mines." But some of the former miners fear that any justice may come too late - as court cases drag on, men are dying.
More than a thousand former workers of Anglo American, one of the world's biggest mining companies, have launched proceedings in the London High Court, seeking compensation for silicosis.
Silicosis is an occupational disease, and a hazard of gold mining, caused by excessive exposure to silica dust. The miners say they were not given protective masks and the mines lacked proper ventilation, even though it was known that the dust could be harmful.
In a separate case, a South African lawyer said he has signed up more than 6,000 plaintiffs from South Africa and Lesotho, and is preparing to file a class-action suit in a Johannesburg court.
A third case, launched by 18 former miners from South Africa's Free State against a local Anglo American subsidiary, is continuing. Four of the men have died since the suit was filed in 2004. There is still no verdict.
In a heartbreaking case last year, Thembekile Mankayi won the right to sue his former employer, AngloGold Ashanti, for compensation for the silicosis and tuberculosis he allegedly contracted while working underground for 16 years. But Mankayi died of lung disease, aged 53, less than a week before the landmark ruling.
The biggest silicosis case so far is the one launched against Anglo American in Britain, representing 1,200 claimants who worked at Anglo's mines in South Africa. The lawsuit, which alleges that the miners' excessive exposure to dust was caused by negligence, is potentially worth hundreds of millions of dollars in compensation.
Anglo American is contesting the jurisdiction of the British courts, and a hearing on this issue will take place May 9.
South Africa's gold mines employed more than 500,000 people during their heyday in the 1980s, many of the workers migranting from impoverished parts of what is now the Eastern Cape, and from neighboring Lesotho.
About 25 percent of the miners contracted silicosis, most of them having worked in mines between 1970 and 2000, according to various studies.
Black workers had the most dangerous jobs in the mines, and were given little safety equipment. Upon returning home to impoverished rural areas, many received little health care.
"Expert or no expert, it doesn't take a wizard to see that these men have got a horrendous level of disease," said Davies, the South African expert, during a briefing in Johannesburg last year.
Daniel Thakamakau, a former South African miner affected by silicosis, attended Anglo American's annual general meeting last week in London.
"While Anglo became rich from the work that we did on their mines, we are now suffering," Thakamakau said in a statement. "I have no money and I cannot get medical treatment. All we are asking is for the company to provide medical assistance and our fair compensation."
Anglo American said that it doesn't believe it is liable for the silicosis claims. But the company last year agreed to provide treatment for 16 miners in South Africa, on "humanitarian grounds," while their cases are being heard.
"Anglo American is very sympathetic to the claimants' situation - but, more than that, we are doing something about it for those individuals whose claims in South Africa have taken so long to be resolved," said chairman John Parker said at the company's annual general meeting last week.
Some of the miners have received compensation, usually just a few thousand dollars or less, under industry wide legislation. But, during South Africa's racist apartheid regime, black workers earned much less than white workers, and received much less compensation.
Another problems is that many miners don't even know they have silicosis. Thousands of ex-miners have died of respiratory illnesses without treatment or compensation.
"The South African gold mining industry was focused on production and profit and displayed a flagrant disregard for the health of its black workers," said Richard Meeran from London law firm Leigh Day & Co, which is representing the miners.
"As a result, tens of thousands of ex-miners, without access to proper medical facilities, have been disabled and they and their families left destitute," Meeran said. "The industry has been well aware of their predicament for over a decade but has failed to act."