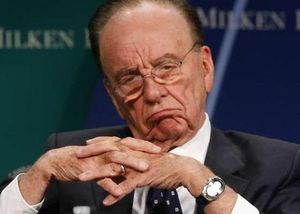 London - After a day of testimony at a British judicial inquiry over his ties, friendships and fall-outs with British politicians,
Rupert Murdoch
was to return to the witness stand on Thursday to face what could be far tougher questions about the hacking scandal that has convulsed his media outpost here.
His appearance offers rare public scrutiny of Mr. Murdoch, usually shielded by his power, influence and wealth.
Since the scandal blossomed last summer, Mr. Murdoch, 81, has been forced to undertake once unthinkable measures, such as the closure of
The News of the World
Sunday
tabloid and the abandonment of a $12 billion satellite television bid, as questions have deepened about the behavior and ethics of journalists, editors and managers working for him.
Last July, he and his son
James Murdoch
appeared side by side at a separate parliamentary inquiry into the scandal when the elder Mr. Murdoch was assailed by a protester who threw a foam pie in his face.
In addition to the investigations by Parliament and the current inquiry under Lord Justice Brian Leveson, the British police have launched three separate inquiries into hacking of voice mail, e-mail and the alleged bribery of police officers.
So far, the police say they have arrested and questioned 26 people in the investigation into corruption and bribery. Twenty others have been arrested in separate inquiries into phone and computer hacking by journalists at
News International
, the British newspaper subsidiary of News Corporation, Mr. Murdoch's New York-based global conglomerate.
The scandal has sent deep shudders through British public life, with politicians of all stripes accused of currying favor with Mr. Murdoch in order to ensure the electoral endorsement and broader support of his newspapers, particularly the mass-circulation
Sun
tabloid.
Those arrested and bailed include Rebekah Brooks, once as a high-flying editor and confidante of Rupert Murdoch. She was chief executive of
News International
, before resigning over the scandal.
Another is Andy Coulson, a former editor of
The News of the World
who became Prime Minister David Cameron's communications chief but left his job at the prime minister's office as the scandal grew.
The
Leveson inquiry
has been pressing to find out how much Rupert and James Murdoch knew about the hacking and when they found out. After the newspaper's royal reporter and a private investigator were jailed in early 2007 for hacking into the voice mail of members of the royal family,
News International
insisted that the practice was limited to what was termed a single "rogue reporter."
But investigations have revealed that, in 2002, the voice mail of an abducted British school, Milly Dowler, girl was hacked after she was kidnapped. Since then, the police have said they have found thousands of potential cases.