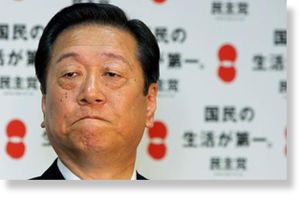 Tokyo - A Japanese court on Thursday found one of the country's most influential politicians not guilty of participating in a funding scandal, reconfiguring the balance of power in the governing party.
The Tokyo District Court acquitted Ichiro Ozawa -- nicknamed the "Shadow Shogun" for his political power-broking -- of falsifying a funding report.
Ozawa, who was forced to resign as head of the governing Democratic Party of Japan in 2009 because of the scandal, is now in a position to reassert his considerable clout within the party.
He opposes Prime Minister Yoshihiko Noda's plans to double the sales tax, a controversial measure aimed at tackling Japan's huge public debt.
The accusations against Ozawa were related to questionable financial reporting by his political funding organization in 2004 and 2005. He has insisted that he is innocent of the charges.
Ozawa was instrumental in bringing the DPJ into power in 2009, when it beat the Liberal Democratic Party, which had governed Japan continuously for almost 50 years.
In 2010, he launched a failed bid to challenge to Naoto Kan, Noda's predecessor, for the premiership.
Many politicians owe their jobs to deals struck by Ozawa, a political operative in Japan for four decades.