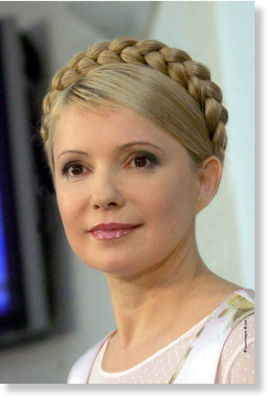 Brussels - The European Union voiced deep concern Thursday over the situation of Ukraine's jailed ex-prime minister Yulia Tymoshenko, who is on a hunger strike and reportedly suffered physical violence.
EU foreign policy chief Catherine Ashton urged Ukrainian authorities to allow the EU ambassador to visit Tymoshenko in prison along with independent medical specialists "as a sign of their political will to clarify the situation."
Ashton "is deeply preoccupied by the situation of Yulia Tymoshenko, former Prime Minister of Ukraine," the chief EU diplomat's spokesman said in a statement.
The Ukrainian ombudsman's office confirmed that 51-year-old Tymoshenko was "subjected to physical violence" during the transfer from her cell to a hospital on April 20, the statement said.
Ashton "recalls the obligation of Ukraine to examine promptly and impartially any complaints of torture or other forms of cruel, inhuman or degrading treatment," it said.
"The High Representative is seriously concerned by the decision of Ms Tymoshenko to begin a hunger strike to draw the attention of the international community to the situation in Ukraine."
The opposition leader -- sentenced in October to seven years for abusing power while she was premier -- has claimed that "three strong men" threw a sheet over her and punched her in the stomach before taking her to a state hospital.
Ukrainian prosecutors immediately denied the charges and accused Tymoshenko of staging a political provocation designed to further damage the current leadership's relations with the European Union.
Kiev asked Germany on Wednesday to send a team of doctors to treat Tymoshenko, who has sparred with President Viktor Yanukovych for the past two years.
German Foreign Minister Guido Westerwelle indicated Ukraine had set certain conditions in its invitation that required more study from Berlin.
He added that his government's earlier offer to treat Tymoshenko in a German clinic -- an idea flatly rejected by Ukraine -- was still valid.
But Ukrainian deputy prime minister Valery Khoroshkovsky appeared to be open to negotiations, saying his government could amend a law to allow Tymoshenko to be treated in another country if Brussels closes outstanding talks on a political and trade deal.
Ashton called on Ukrainian authorities to ensure "the full respect of the right of Ms Tymoshenko to adequate medical assistance in an appropriate institution."
She also urged Kiev to give Tymoshenko access to her lawyers without restriction and allow family members to visit her.