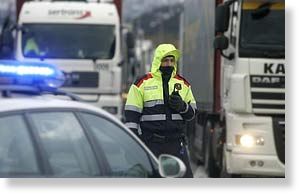 Madrid, Apr 24 (Prensa Latina) - Spain will restore border controls to France on Saturday, during a summit of European Central Bank (ECB) to be held on 3 May in Barcelona, said Monday the Ministry of Interior.
The measure, which will run until next May 4, will involve the temporary suspension of the Schengen Agreement on free movement of citizens among the 27 European Union countries.
According to the conservative government of Mariano Rajoy, the land boundaries with France will be reinforced at the border of La Jonquera, Port Bou, Puigcerdá, Camprodon, Les and Canfranc and air borders of Girona and Barcelona airports.
The Schengen Agreement text states that the free movement of persons in Europe without borders can be temporarily interrupted
in the case of "a serious threat to public order or national security."
The Spanish authorities fear the arrival of protesters from other countries to Barcelona as part of the unrest prevailing in the so-called Old Continent due to the adjustment measures implemented by governments to overcome the crisis.