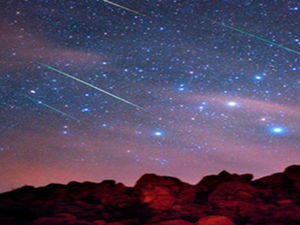 The Tuolumne County sheriff's department said they are investigating the possibility that it might have been the physical impact of an overnight meteor shower. Some people in the Tahoe area said they saw what they believed to be a meteor just prior to the sound.
People who live in in Lake Tahoe, El Dorado County, Placer County, Tuolumne County, Amador County and Nevada County contacted our sister station in Sacramento.
KCRA is reporting
that they heard the sound just after 8:30 a.m.
A television station in Reno said they received similar calls from the city of Reno and as far away as Incline Village.
Meteorologists in California and Nevada including our own Rob Mayeda said there were meteor showers Saturday night that could have still been going on Sunday morning.
If the boom was a signal that an outer space rock made it way through the atmosphere, then there could be a rock or rocks now on Terra Firma. So far, no one has called authorities or television stations to report "a hit."
Mayeda said the meteor would likely be a bolide rock and that it likely burned up before getting to the ground.
Every year the Earth passes through the orbit of a comet causing the Lyrid meteor shower. The results on a clear night is a meteor shower, which comes in the form of light streaks shooting across the night sky.
The stars are
actually debris from the comet
as it enters the Earth's atmosphere.
According to the International Meteor Organization
, the Lyrid meteor shower peaked with a maximum between 20 and 30 meteors per hour. That is not the best of the year's meteor showers, but many observers said they were pleasantly surprised.
There was also a reported meteor streak in the South Bay Sunday morning at 7:50 a.m. Don Hirschfeld said he was at the Capitol Flea market when he saw a brilliant green streak race across the San Jose sky in the northeast direction. Hirshfeld said it lasted just a few seconds, but caught bargain shoppers' attention. There was no boom in the San Jose event and the streak ended with burn up flashes.
UPDATE:
NORAD (North American Aerospace Defense Command) tells News 4 they have received reports of a meteor strike near the Kingsbury Grade area but there is no confirmation at this point.
NBC Bay Area is reporting the Tuolumne County sheriff's department, about 90-miles east of Stockton, is investigating the possibility that there may have been the physical impact from an overnight meteor shower.People in Northern California and Nevada reported hearing a loud boom in the sky above the Sierra Sunday morning.