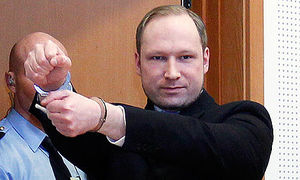 Norwegian mass killer Anders Behring Breivik plans to argue that his July 2011 shooting spree -- in which he killed 77 people, most of them teenagers -- was carried out in self-defense when his trial begins Monday.
The 33-year-old, who has a strong desire to be judged as sane, according to one of his lawyers, is looking forward to detailing why he carried out his bloody spree in downtown Oslo and at a political youth camp on nearby Utoya Island,
Dagbladet
newspaper reported.
"He wants to explain everything with why he did what he did," lawyer Tord Jordet said. "It's a pretty long and complicated explanation, with lots of historical elements, experiences from his own life and political persuasions. It is not easy to explain in a concise manner."
He said the notion that the attack was carried out in "preventative self-defense" was important to Mr Breivik.
"If he can explain himself freely, he will begin to say why he has done as he has done. The most important thing for him is what he calls ethnic deconstruction and that he believes he has acted in preventive self-defense," Mr Jordet said.
Mr Jordet's colleague Geir Lippestad said he wanted to forewarn Norwegians about the shocking defense Mr Breivik will mount.
"We as defenders have heard it many times," he said, "but it will be different for those who have not heard him before. It was therefore important to say something about what is to come.
"Technically, we have no choice other than to note his arguments about why he did what he did. We of course understand that will not succeed, but we are obliged to present his arguments."
He added, "I think we're going to hear many very provocative statements from him."
Mr Lippestad warned earlier in the week that, "He will not only defend [his actions] but will also lament, I think, not going further."
He also said Mr Breivik was "pleased with the conclusion" of a new report that declared he was legally sane and criminally responsible for the twin attacks.
Mr Breivik, who earlier said being sent to a psychiatric ward would be "worse than death," wants to be declared sane, according to Mr Lippestad, to protect the message in his 1500-page online manifesto, AFP said.
He has admitted detonating a car bomb outside government offices in Oslo last July, killing eight, then going on a shooting spree at Utoya island, killing 69.
He has claimed his actions were necessary to "defend the ethnic Norwegian population" and "a preventive attack against state traitors" who support multiculturalism.