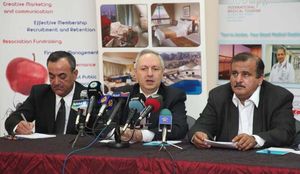 Hospitals affiliated with the Private Hospitals Association (PHA) will stop admitting Libyan patients except emergency cases and those who can pay cash up front, a PHA representative said on Tuesday.
PHA President Awni Bashir said the decision came in response to unfulfilled promises by the Libyan authorities to pay outstanding dues of some JD100 million to the Kingdom's hospitals.
According to Bashir, the medical bills for more than 50,000 Libyans treated in the Kingdom's hospitals totalled JD120 million, of which Libya has only paid JD20 million.
He explained that some of the 22 private hospitals that admitted Libyan patients have financial obligations to medical supply companies and will not be able to operate if they do not receive payment from the Libyan authorities.
Bashir's remarks were made at a joint press conference with the Jordan Hotels Association (JHA) yesterday to urge Libyan authorities to pay their outstanding dues.
Speaking at the conference, JHA President Michael Nazzal said the Kingdom's hotels are facing the same problem and warned that some of them will not be able to operate if Libyan authorities do not accelerate the process of paying their bills.
According to figures he presented, the bill for accommodating Libyans in the Kingdom's hotels amounted to JD80 million, of which JD20 million has been paid.
Currently, there are 12,000 Libyans staying in the country's hotels, according to Nazzal.
Both Nazzal and Bashir urged the government to intervene to ensure that Libyan authorities pay their outstanding bills.
They also described the official and nonofficial statements published in local media over the past two months saying that the Libyan government would transfer the outstanding dues within 24 hours as "misleading" and "not true".