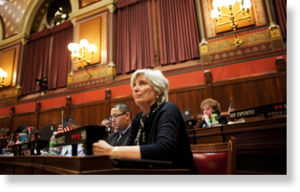 US - The Connecticut House of Representatives gave final legislative approval on Wednesday to the repeal of the state's death penalty, moving it one step closer to becoming the fifth U.S. state in recent years to abandon capital punishment.
The 86-62 vote followed 10 hours of debate in the Democratic-controlled House and came after last week's Senate vote to abolish the death penalty. The bill now goes to Democratic Governor Dannel Malloy, who has vowed to sign it into law.
"The death penalty doesn't bring finality," said Democratic Representative Gerald Fox, chairman of the House Judiciary Committee. "The cost of the death penalty and the litigation that ensues places a financial burden on the judicial system and the state. We have learned in recent years, we have made mistakes."
Connecticut would join 16 other states and the District of Columbia without capital punishment. Its measure would replace the death penalty with life in prison without the possibility of parole. The repeal applies only to future sentences. The 11 men now on Connecticut's Death Row would still face execution.
But some legal experts have said defense attorneys for current Death Row inmates could use the repeal measure to win life sentences for their clients.
Illinois, New Mexico and New Jersey all voted to abolish the death penalty in recent years, and New York's death penalty law was declared unconstitutional in 2004.
Other state legislatures are considering bills to abolish the death penalty as well, and Oregon's governor has said he would halt all executions on his watch.
"As significant concerns about executing the innocent, the high cost of the death penalty and its unfair application continue to grow, more states are turning to alternative punishments," said Richard Dieter, executive director of the Death Penalty Information Center.
A similar bill was defeated last year in Connecticut, just as the high-profile trial of Joshua Komisarjevsky was getting under way for his role in a 2007 home invasion in which a mother and her two daughters were brutalized and killed.
Komisarjevsky and another man are now on Death Row for the murders. The only survivor of the attack in Cheshire, Connecticut, Dr. William Petit Jr. - the husband of the murdered woman and father of the murdered girls - has spoken out against repeal.
Connecticut has executed only one person, in 2005, since the death penalty was reinstated in the United States in 1976, according to the Death Penalty Information Center. The executed convict, Michael Ross, had abandoned his appeals.