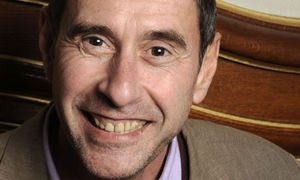 New York police are attempting to piece together the final hours of the director of one of France's most elite colleges, as they awaited the medical examiner's report on the cause of death.
The mysterious demise of Richard Descoings, 53, whose naked body was found in his Manhattan hotel room, sparked emotional tributes from students, politicians and fellow academics, who hailed him a "visionary" and an "idol."
The married 53-year-old headed the highly respected Paris Institute of Political Studies - "Sciences-Po" - and was in New York for a conference but he failed to show up, prompting a search and an eventual discovery of his body.
"The medical examiner will determine the cause of the death," an NYPD spokesman told AFP.
"The investigation is ongoing."
A spokeswoman for the medical examiner said an autopsy would be done in the morning and "we should have some information," later in the day.
Police said shortly after the academic's body was found on the bed in room 723 at the Michelangelo Hotel that there was no evidence of foul play, despite initial reports suggesting otherwise.
"The hotel had checked earlier in the morning at nine, and he was asleep, at one he was found dead," said deputy police commissioner Paul Browne late Tuesday.
Prof Descoings had been attending a meeting of the heads of major universities under the auspice of UN Secretary General Ban Ki-moon.
The Frenchman was due to meet four colleagues in the midtown Manhattan hotel at 9.00 am, but when he failed to show, they assumed he had left without them.
The tabloid
New York Post
, citing police sources, said empty bottles of anti-depressants and alcohol had been found at the scene, and
the newspaper also reported that two men had earlier visited the academic's room
.
Prof Descoings's wife Nadia was due to arrive in New York along with her two children from a previous marriage. The couple did not have any children of their own.
Guillaume Pepy, a very close friend of Prof Descoings and the president of the French national rail authority SNCF, has been asked by Prof Descoings's wife to travel to New York from Montreal, sources close to the family told AFP.
Prof Descoings drew fierce criticism earlier this year when it emerged that he earned a net salary of 24,000 euros ($32,000) a month with a variable bonus on top, while most university heads in France earn around 4500 euros a month.
In an interview with
Liberation
newspaper in which he defended his salary, Prof Descoings also complained he had been "forcibly outed" by
Le Monde
, saying: "I do not see what my supposed homosexuality has to do with anything."
During four terms at the helm, Prof Descoings transformed Sciences-Po, boosting student numbers from 4500 to 10,000, setting up six campuses in the provinces and increasing the number of foreign students.
French President Nicolas Sarkozy and the country's Education Minister Luc Chatel led the tributes.
Mr Sarkozy - who studied at Sciences-Po but failed to graduate - praised Prof Descoings's "exceptional career," saying in a statement that the academic had "devoted his whole life to his chosen cause ... education."
Mr Chatel said France had "lost a visionary spirit who, with his audacity, his energy and his ability to smash taboos, revolutionised our higher education and our conception of education."
Prof Descoings's innovation was to implement an equal opportunities program, in partnership with schools in working-class neighbourhoods, to provide better opportunities for France's underprivileged black and Arab minorities.
The program became the focus of much attention after the suburbs of French cities exploded in riots in 2005, and again when Barack Obama, the United States' first black president, arrived in the White House.
UN chief Mr Ban also paid tribute to Prof Descoings, calling him "a global leader on education policy, recognized and honored both in France and around the world for his contributions to research and policy."
Some in France, however, saw Prof Descoings's special admissions track for underprivileged candidates as an affront to principles of equality for all, regardless of background.