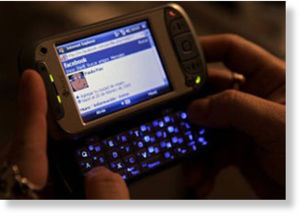 Philippine girl banned from graduation, Indiana student expelled for using social media outside of school
We've all been cautioned about bosses or potential employers looking at our social media activity, but now some schools are taking drastic steps after students post items they don't like.
A 16-year-old girl in the Philippines is being banned from her graduation ceremony for posting pictures on her Facebook page. In the photos she posed in a bikini while holding a cigarette and a liquor bottle. The girl, who attends the St. Theresa's College High School in central Cebu City, will graduate, but she can't take part in the ceremonies, reports the
Associated Press
.
The mother is suing the private school and calling the punishment "too harsh" and "unjust," according to
Asia One
.
But it isn't just Facebooking outside of school that can land students in trouble. A high school senior in Indiana has been expelled for using swear words in an off-school hours tweet.
Yahoo! News
describes the tweet as "non-threatening," but it did drop a number of F-bombs. The school discovered the late-night tweet because its computer system tracks the students' social media presence.
The student disagrees with the school's methods and punishment saying, "I don't think the school or anybody should be looking at [my account]. Because it's my own personal stuff and it's none of their business."
And in Minnesota, a high school student used Twitter to land a porn star as a prom date, but the school is banning her from attending. After being turned down by several girls at the school, special needs student Mike Stone, 18, sent out about 600 tweets to porn stars. Megan Piper responded stating she could make it a dream prom for him. Stone is offering to pay for Piper, but an adult website and travel agency have also offered to cover the costs.
Stone's mother said in a
Digital Trends article
she thinks the banishment is ridiculous. "It's not like they're going to have sex there or make a movie."
On the opposite end of punishing students for using social media, Peel schools near Toronto are encouraging students to bring electronic devices into the classroom.
"The board's historic financial investment in the future of learning and instructional technology will provide access to learning anytime, anywhere - access we know will lead to innovation and exploration through learning and connecting with the world," said Tony Pontes, director of education, in a
statement
. "We need to expand access to current technology and encourage students to BYOD - bring your own device - to engage them in learning."
There is no word on what will happen if the students in Peel use their devices during class time to tweet or Facebook in a manner deemed punishment-worthy.