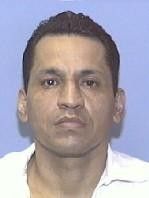 A convicted child sex offender was executed Wednesday in Texas for the beating death of a 10-month-old boy he was baby-sitting at a home in Dallas.
Jesse Joe Hernandez smiled and laughed at times before receiving a lethal injection for the slaying of Karlos Borja 11 years ago.
"God bless everybody. Continue to walk with God," the 47-year-old Hernandez said. Moments later, he shouted "Go Cowboys!" in honor of his favorite football team.
As the drugs took effect, the condemned man repeated his appreciation for those he knew who had gathered to witness the execution. "Love y'all, man," Hernandez said. "... Thank you. I can feel it, taste it. It's not bad."
He took about 10 deep breaths, which grew progressively weaker until he was no longer moving. Ten minutes later, at 6:18 p.m. CDT, he was pronounced dead.
No one related to the slain child attended the execution, the fourth this year in Texas. It was carried out about two hours after the U.S. Supreme Court denied last-ditch appeals for Hernandez.
Ten-month-old Karlos was taken to a Dallas hospital in April 2001 with a skull fracture and bruises to his head, thigh and abdomen. A week later, he was taken off life support and died. His 4-year-old sister had similar beating injuries to her head, ears and eyes but survived.
Hernandez's DNA was found in Karlos' blood on a pillowcase and on the child's clothing. The boy's sister drew stick figures for detectives to help describe her attack.
Hernandez denied beating the children but later told a detective he may have hit the boy with a flashlight. He did not include the flashlight reference in a written confession in which he said he "just exploded" and struck them with the back of his hand.
"They were being very bad by crying a lot for nothing," Hernandez wrote.
Howard Blackmon, the former assistant district attorney in Dallas County who prosecuted Hernandez, recalled seeing photos of the badly bruised boy connected to tubes while in the hospital and his sister's red, bruised forehead.
"I don't think Hernandez admitted to any intent to kill," he said. "He did admit to striking."
Jurors saw those images and also learned that
Hernandez had a previous conviction for molesting a child and drug possession, had beat his ex-wife with a baseball bat, burned a girlfriend's child with cigarettes
and was found with a shank while locked up in jail.
Court records showed Hernandez and his wife of six years had been living with the two children and their 22-year-old mother about three days in a Dallas house that had no running water. Hernandez and his wife were to watch the children while their mother was working as a waitress.
On April 11, 2001, Hernandez's wife left to run some errands. When she returned he told her the kids were sleeping and not to disturb them. Hours later, after their mother returned from work, the girl complained her head was hurting and the mother took her to a hospital. While they were gone, Hernandez's wife checked on Karlos, discovered his injuries and called paramedics. Police were then notified.
In trying to stop the execution, Hernandez's attorneys unsuccessfully argued that his trial lawyers were deficient because they didn't pursue evidence that the boy was prematurely removed from life support and had toxic levels of the drug pentobarbital in his blood. The same barbiturate is used in the execution process in Texas.
The attorneys also claimed an initial appeals lawyer did not investigate the case beyond the trial record and that failure cost Hernandez his lone opportunity to raise substantive legal claims following his conviction.
Brad Levenson, director of the Texas Office of Capital Writs, said a more thorough investigation could have shown Hernandez wasn't responsible for the child's death.
The Texas attorney general's office opposed any delay, questioning whether the high court even had jurisdiction in the case because constitutional claims weren't raised earlier in state courts.
At least six other condemned Texas inmates have execution dates scheduled for the coming months.