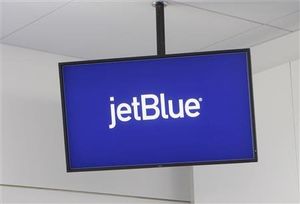 A JetBlue flight to Las Vegas was diverted to Texas on Tuesday due to what the airline described as a "medical situation" involving the captain -- who one witness said had to be restrained after he pounded on the locked cockpit door.
The FBI said it responded to the scene in Amarillo, Texas, and was looking into the incident on Flight 191 from New York. JetBlue said the pilot-in-command elected to divert the flight from New York carrying 135 passengers due to "a medical situation involving the captain."
"Another captain, traveling off duty, entered the flight deck prior to landing at Amarillo, and took over the duties of the ill crew member once on the ground," the statement said.
The ill crew member was removed from the aircraft and taken to a local medical facility, JetBlue said. The plane, which took off from John F. Kennedy International Airport in New York, had been scheduled to land at McCarran International Airport in Las Vegas.
Passengers on the plane said commotion erupted on board more than three hours into the flight.
"A male who ... had a JetBlue uniform on, was pounding on the cockpit door saying: 'I need the code, give me the code. I need to get in there,'" passenger Heidi Karg told CNN. "I didn't know at the time he was the captain."
"The pilot came on and said, 'You need to restrain him, you need to restrain him.' A bunch of male passengers ran up to the front, helped the flight attendants get him to the ground," she added.
Another person on the plane told CNN that local law enforcement met passengers at the gate and interviewed them.
An Amarillo police spokeswoman declined to comment on the incident, but said her department was assisting the FBI.
"We always coordinate efforts if there is any indication there could be a potential federal violation. That's not unusual for us," FBI spokeswoman Lydia Maese said, but gave no further details.
(
Editing by Cynthia Johnston and Cynthia Osterman
)