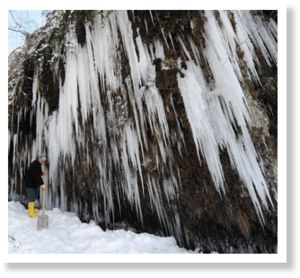 Belgrade - Thick ice closed vast swathes of the Danube on Thursday, crippling shipping on Europe's busiest waterway, as the death toll from bitter cold across the continent rose to at least 460.
As it has every day for nearly two weeks, the brutal cold claimed lives in several countries and killed dozens more in weather-related accidents.
The 2,860-kilometre (1,780-mile) Danube, which flows through 10 countries and is vital for transport, power, irrigation, industry and fishing, was wholly or partially blocked from Austria to its mouth on the Black Sea.
Navigation was impossible or restricted in Serbia, Croatia, Bulgaria, Romania, Hungary and Austria, as ice covered the river or formed dangerous floes in shipping lanes.
An official from the Serbian economy ministry said the commercial repercussions "could be very bad", while infrastructure ministry official Pavle Galico said shipping would not resume for 10 days.
Bulgarian authorities, who have banned all navigation on the river, reported 224 vessels stuck in ports, and Ukrainian rescuers in Croatia reached three crew members on a ship trapped in the ice since Friday.
Temperatures in Bulgaria dropped to a new record low Thursday of minus 28.6 degrees Celsius (minus 19.5 Fahrenheit) in the northwestern town of Vidin. The country has halted all power exports due to the cold snap.
So far, 28 people have been killed in Bulgaria as a result of the weather, including eight who drowned when the icy waters of a small dam swept through their village of Biser in the southeast.
Serbian railways, meanwhile, said the famed Balkan Express train that runs from Belgrade to Istanbul would only go as far as Sofia for now because of the flooding in Bulgaria.
In the Czech Republic, another homeless man froze to death in Kolin, bringing the country's toll to 25, and forecasters said temperatures could plunge to minus 40 Celsius in the mountains and minus 25 Celsius in Prague on Saturday night.
Another blast of freezing weather was also predicted for Italy, even as soldiers worked to free villages trapped in three metres of snow and with the death toll from the cold snap already at 43.
Forecasts said freezing winds would pick up later Thursday and bring more snow on Friday and Saturday to Rome, just recovering from its biggest snowfall in decades.
The Croatian city of Split has seen a spike in bone fractures in recent days as hundreds of people have slipped on icy roads.
The city's mayor blamed high taxes on footwear for preventing residents of the coastal town from buying proper winter boots.
The claim was met with outrage by many inhabitants of Split, where the city's hospital ran through a two-year supply of plaster in five days. They said the city had reacted inadequately to the cold snap.
Electricity consumption was peaking in Serbia and state-run power utility EPS imposed a limit on supply to some large firms, warning that households and companies could face power rationing if consumption is not reined in.
Germany was forced Wednesday to draw on its reserves for producing electricity for the second time this winter.
More than 2,000 roads were blocked in Turkey by heavy snows and frigid temperatures stretched as far south as north Africa.
In Ukraine, worst hit by the big freeze, ice over the Kerch Strait linking the Sea of Azov to the Black Sea has trapped 126 boats, 120 of them foreign, the emergencies ministry said.
Forecasters also said temperatures were expected to plunge further at the weekend, to as low as minus 30 Celsius in some regions.
While many in Europe were fed up with the bitter cold, residents in the Netherlands were disappointed with a slight warming in that country that resulted in a legendary ice-skating race along canals being cancelled.
The race has not been run since 1997.
In France, police said the body of an 83-year-old man was found near a forest in the northwestern town of Fougeres. It was at least the seventh death in the country believed to have been caused by the cold snap.
The freezing weather continued in France on Thursday, with 52 of the country's 101 regions on alert for deep cold or snow.
Authorities have warned of possible power cuts after electricity use hit a record of more than 100,000 megawatts at peak evening times on Wednesday.