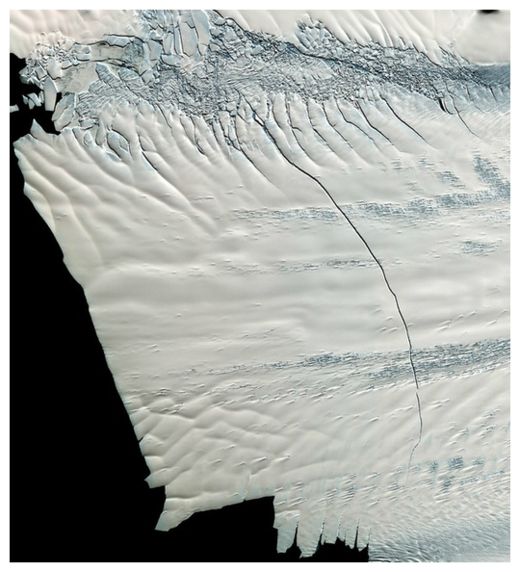 A massive crack in a huge sheet of Antarctic ice discovered in mid-October last year is steadily growing, as seen in recently released satellite images.
The
fissure in the Pine Island Glacier ice shelf
marks the beginning stages of the birth of a 350-square-mile (900 square kilometers) iceberg, part of a
natural process known as calving.
The image was snapped on Nov. 13, 2011, when the rift was roughly 19 miles (30 km) long, 260 feet (80 meters) wide for most of its length, and 195 feet (60 m) deep. When researchers first spotted the crack in mid-October, it was roughly 18 miles (28 km) long.
The ice shelf is the floating end of the Pine Island Glacier, a slow-moving river of ice in West Antarctica that moves ice from the interior of the continent out to sea.
The recent discovery that
the glacier has markedly sped up over the last decade
has provoked a flurry of research interesting Pine Island Glacier and its ice shelf, whose sudden changes are almost undoubtedly caused by climate change and warming oceans in the region.
However, the calving iceberg itself is the result of a cyclical process, not climate change, scientists say.
In fact, researchers had been expecting the ice shelf to produce a large iceberg sometime soon. The ice shelf last produced large icebergs in 2001 and 2007, and these calving events appear to happen on a roughly decade-long cycle.