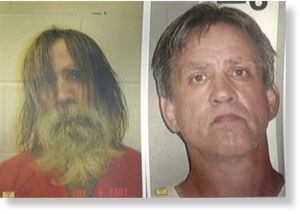 A federal jury has awarded $22 million to a New Mexico man who was kept in solitary confinement for two years and forced to pull his own tooth after being arrested for drunken driving in Dona Ana County.
Civil rights attorney Matt Coyte said the jury awarded Stephen Slevin, 58, the damages Tuesday after a six-day trial in Santa Fe.
Jess Williams, spokesman for Dona Ana County, declined comment other than to say the county plans to appeal.
"We have believe we have strong legal issues to raise with the appeal," he said.
Slevin was arrested while driving through the southern New Mexico county in August 2005. He ended up in solitary confinement because he was suffering from depression and someone checked a box on a form indicating he was suicidal, Coyte said.
Slevin was given some drugs for depression but never saw a mental health professional, Coyte said. He said his client wrote letters for months seeking help, but they were ignored.
"By January 2006, his last letter goes out looking for help. Then he falls into this delirium. He was there for the next 20 months," Coyte said.
Coyte said that in May 2007, Slevin was sent to a mental health facility in Las Vegas, N.M., for two weeks but then was returned to the Dona Ana County jail and solitary confinement.
"He immediately decompensates," Coyte said. "He sends off another letter at this point asking for medical care. ... He is forced to pull his own tooth. He rocked it back and forth over a period of eight hours before he was able to pull it out of his mouth."
Slevin was finally released in June 2007, Coyte said. He was never convicted.
"He entered this facility with overt symptoms of mental depression," Coyte said. "But that's not the issue. ... He was stuck in a 6-foot-by-11-foot cell with a concrete bench for a bed. And he sat in that cell. We had documentary evidence that he didn't get out for anything - for recreation, a shower - for months at a time."
Source: KOB-TV