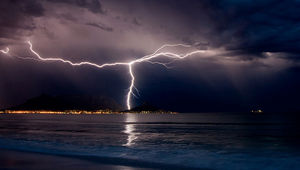 Proposed law would make unauthorized storm predictions punishable by heavy fines and 10 years in jail.
A proposed law in South Africa would theoretically punish anyone who makes a prediction about severe weather or air pollution with heavy fines or jail time if they did not first receive written permission from the government-funded South African Weather Service (
SAWS
).
As written, the South African Weather Service Amendment Bill would affect not just TV weathermen and online weather sites but also community-based weather services. First offenses would be punished with a fine or up to 5 million rand (about $630,000) or five years in jail. The fines and jail time would be doubled for subsequent offenses.
The law was widely but
inaccurately reported
last week as punishing weather forecasters who make incorrect predictions with jail time, perhaps inspired by a
Daily Telegraph
headline
that read "South African weather forecasters who get it wrong face imprisonment." The
Telegraph
story itself accurately reported on the bill, which has been criticized for creating a monopoly for SAWS weather reports, including radar images and text message alerts, which are only available to the public after paying a subscription fee.
According to
South Africa's
Daily News
, one of the community-based weather organizations that would be affected by the bill is the SA Weather and Disaster Observation Service (
SAWDOS
), which blogs, tweets and otherwise reports on real-time weather observations from the public. SAWDOS recently provided warnings on three big storms, "possibly reducing losses and damage" in the process, the
Daily News
reported.
SAWDOS founder Johan Terblanche told the
Daily News
that the bill could be the end of his weather service and others like it.
"As the amendment bill now reads, nobody will be able to issue any warning of approaching severe weather." He also said that asking for permission before reporting on the weather would not provide a timely and effective news service: "Experience has taught us that to get permission from any institution takes time - that is if you can get hold of the designated person."
The
Daily News
first reported on the South African Weather Service Amendment Bill on Jan. 11, inspiring a wide range of public outcry. By the morning of Jan. 13, the South African Department of Environmental Affairs said it was willing to reconsider the bill if it had "unintended negative consequences." An unnamed SAWS spokesperson praised the public for its vocal disapproval of the bill: "One of the important lessons from this is that active public participation is fundamental to good law-making."
The bill continues to make its way through the South African legislature.