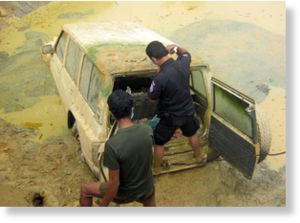 Cambodian police on Saturday found five bodies, two of them stuffed in a suitcase, in a car belonging to a Frenchman who had been missing for months with his four children, officials said.
The gruesome discovery was made after the white 4x4 vehicle owned by widower Laurent Vallier, 42, was retrieved from a pond on his property in the southern province of Kampong Speu, said Chhay Sinarith, director of the interior ministry's internal security department.
"After removing the car from the pond, we found the remains of five people. We conclude that they are those of the missing French family," he told AFP.
"The bones of two kids were put in a suitcase that was also in the car," he said, adding that police were still investigating the cause of death for all five victims.
A source at the French embassy in Phnom Penh told AFP he could only confirm that "the remains of five people", in a badly decomposed state, had been found in Vallier's car, which is thought to have lain submerged for weeks.
The embassy official stressed that none of the victims had been officially identified and that an investigation was still ongoing.
Vallier and his two sons and two daughters, aged two to nine, had been missing since September. Vallier's Cambodian wife died in childbirth in 2009.
According to local media, Vallier worked as a tour guide.
Vallier's parents in France first raised the alarm about his disappearance in November, when they informed the French embassy they hadn't heard from him since September.
Local police paid a visit to Vallier's house in early January where they found photographs of the French citizen and his children, which they distributed nationwide to widen the search for the family.