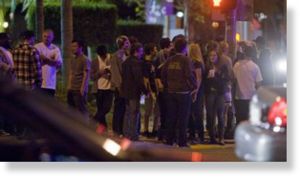 Police in Southern California said Saturday they believe a man in their custody is responsible for all four recent killings of homeless men in Orange County.
Anaheim police said at a news conference that investigators have tied 23-year-old Itzcoatl Ocampo of Yorba Linda to the killings.
Ocampo was detained Friday night after a fourth homeless man was found slain in the parking lot of a fast-food restaurant.
Three other homeless men have been found stabbed to death in north Orange County since mid-December, and a task force of police officers, sheriff's deputies and FBI agents had been looking for the single suspect they believed was responsible for all three.
Ocampo could not immediately be reached for comment. A phone number listed in his name rang without an answer, and no one answered the door at two addresses listed in his name.
Also Saturday, mourners wept and placed flowers at the scene of death of the latest stabbing victim, who was described by friends as a Vietnam War veteran in his 60s named John.
He was found between 8 p.m. and 9 p.m. Friday in a Carl's Jr. parking lot at the intersection of La Palma Avenue and Imperial Highway in Anaheim, police said.
Marilyn Holland, an Anaheim resident who befriended the victim and regularly brought him oatmeal raisin cookies, said he was uncharacteristically nervous since police warned him to stay vigilant in the days after the killings began.
"He told me he thought he was being followed," Holland said. "I told him after pay day I was going to get him a cellphone, so he could call 911 if anything happened. Normally he would refuse help but he was willing to accept the phone because he was scared."
Holland was paid Friday but didn't get the chance to get the phone to her friend.
Several witnesses reported an assault in progress, and officers arrived to find the homeless man dead near a trash bin in the restaurant parking lot. Witnesses followed a man who ran from the lot and led police to him, Anaheim police Sgt. Bob Dunn said.
"We were having dinner in the area and saw about 40 police cars scream into the parking lot. I ran over and hugged my friend, screaming, 'Please tell me it's not John!' But it was," Holland said, fighting back tears.
Police set up a large containment area at the crime scene in a search for the killer and scoured nearby neighborhoods, including a mobile home park, Dunn said.
A police bloodhound traced the scent from Ocampo's belongings back to the scene where the attack occurred, about 10 miles northeast of the Disneyland Resort, authorities said.
Ocampo, of nearby Yorba Linda, was being held without bail for suspicion of murder, Dunn said.
A task force of law enforcement officers from Anaheim, Placentia, Brea, the Orange County Sheriff's Department and the FBI had been formed to investigate the killings of the three other homeless men.
James Patrick McGillivray, 53, was killed near a shopping center in Placentia on Dec. 20; Lloyd Middaugh, 42, was found near a riverbed trail in Anaheim on Dec. 28; and Paulus Smit, 57, was killed outside a Yorba Linda library on Dec. 30.
Police and advocates have been urging those living on the streets to head inside or buddy up in the wake of the killings.
Source: The Associated Press