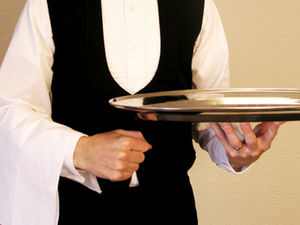 Excuse me, waiter. There is a fractured proximal phalanx bone in my soup.
A wealthy CEO is finding himself in hot water after he allegedly snapped at his waiter while dining at a swanky Florida county club - and then snapped the server's finger until it broke.
John Castle, the 76-year-old CEO of the Castle Harlan equity firm, could be facing charges after a waiter at the posh Palm Beach, Florida establishment Club Colette made claims that Castle went berserk after he brought him the check.
Paul Kucick, a 57-year-old member of the club's wait staff, says he dropped the check off at Castle's table where the CEO was dining recently, which is a big no-no at the club. Company policy actually asks restaurant servers to refrain from delivering tabs to customers unless requested, and instead usually adds the cost of their meal to their established accounts. Kucick apparently wasn't aware of the policy and far from prepared for the lack of understanding on Castle's part.
According to a police report filed by Kucick, Castle became enraged upon receiving the check and asked the server, "You schmuck, why did you bring the bill to the table?"
It didn't stop there.
The report reads that Castle then gripped the hand of Kucik, and then began "squeezing and twisting" his fingers, "and only stopped when Mr. Kucik freed himself from the tight grip."
Mr. Kucik complained to his employers, who shrugged off the incident. When the pain continued, he sought medical attention and later learned from a x-ray that Castle's attack had rendered his left ring finger broken.
Palm Beach police say they are investigating the incident, but neither party has offered statements outside of the official report. In it, Mr. Kucik insists that Castle's wife requested the check.