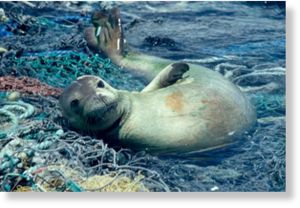 Authorities in Hawaii say they are looking for whoever has beaten four monk seals to death in less than three months.
Honolulu's KITV-TV reported Wednesday a fisherman found the latest seal carcass Monday in Pila on the northeast coast of Kauai.
State officials said its head wounds were similar to those found on three monk seals found dead on Molokai's west side in previous weeks.
"They're dying because their skulls are being smashed. So for me, that is alarming," community activist Walter Ritte told the TV station. "That's setting a dangerous trend."
Ritte said he suspects misinformed young fishermen or hunters may be to blame for the seals' deaths.
State land director William Aila also expressed the need to find those responsible and "stop this trend."
There are about 1,100 monk seals living in the northwest Hawaiian Islands where officials say their population is declining at a rate of about 4 percent a year, though their numbers are growing in the main Hawaiian islands.
Under state law, harming or killing monk seals is a felony punishable by up to five years in prison and a $50,000 fine.