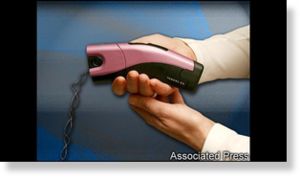 Tampa police are investigating a stun gun attack on a shopper wearing an Indian-style tunic.
Police spokeswoman Irene Thomas says authorities want to question the woman who used a Taser on the victim.
Thomas says "it's just a matter of why" the woman attacked the 61-year-old victim who was wearing a salwar-kameeze, the Indian tunic paired with loose pants, while shopping at Walmart on New Year's Day.
Police say two women are seen on a store surveillance video following the victim through a couple of aisles, but the attack was not captured. One woman acted as a lookout while a second woman shocked the victim.
The victim, who had two small marks on her back, does not want to be identified since the attackers are still on the loose.
Source: The Associated Press