Film shot in the neighborhood features kid actors toting guns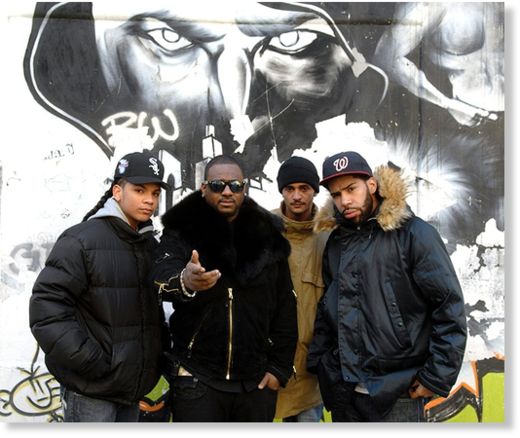 The streets of Harlem are being run by baby-faced gun-toting kids who aren't afraid to pull the trigger and leave a bloody trail of bodies in a new independent film that's quickly making the rounds uptown.
There's wild shoot outs, drugs and sex in
Toddlers
- shot in Harlem
using neighborhood kids as young as 12
making their acting debut.
The DVD, released last month, has anti-violence activists charging the movie glorifies guns. They're thinking about boycotting the video store selling the film.
Director Termaine (M5) Brown insisted he's not promoting gun violence, just showing a harsh reality.
"That's what's going on, I'm just showing it," Brown told the
Daily News
. "You hear about these murders, but people don't see how it happens. I show how these incidents happen. These are real life situations.
"The parents don't get to see what these kids are really doing," said Brown, 29, who was raised in Harlem and shot many scenes on W. 147th St. between Broadway and Amsterdam two summers ago.
The DVD cover features a chubby-cheeked kid holding a gun. In the one-minute trailer, posted on YouTube, kids are brandishing guns; a girl is kidnapped by thugs and a man is shot in the head.
In
Toddlers
, the lead character Pito, played by Jordan Pena, 14 at the time, turns to a life of guns and drugs after his drug dealer father is killed .
Pito, once a promising baseball player, purchases guns with his newfound drug money. He and his friends gun down anyone who gets in their way.
Pena, who said his first-time in front of the camera was a "great experience," insisted the movie doesn't promote violence.
"It promotes how to turn into a man; how to take care of a family," said Pena, now 16. "It promotes how life is out here. It's definitely reality."
He said playing the role of Pito wasn't hard for him.
"It was basically me acting like myself. It wasn't hard at all. This was like playing my life," said Pena, who now wants to continue acting. "I was proud of myself for finishing the movie."
He said his parents and grandmother were also proud of him for doing something "positive."
But some anti-violence leaders were stunned by the shoot 'em up's trailer.
"It was disgusting," said Jackie Rowe-Adams, founder of anti-violence group Harlem Mothers S.A.V.E. "This should be banned."
Rowe-Adams said the trailer brought back memories of her son being killed. "All I could think about was that 13-year-old killing my son," she said.
Rowe-Adams said she'd like to meet the filmmaker and perhaps work with him to use his skills to send a different message. "Can't he channel his talents into something positive?" she asked.
Iesha Sekou, of Street Corner Resources, was equally upset after viewing the trailer.
"That's horrible," said Sekou, who works with kids at Harlem Renaissance High School. "This is not entertainment. We don't need to promote kids carrying guns."
Sekou and Rowe-Adams are considering boycotting Black Star Music & Video on Lenox Ave. near W. 128th St., the only store selling the $20 movie.
Black Star Video owner David Wetstone declined to comment. .
Brown argued what he's portraying has been done before in other movies.
"This is not new," he said, referring to movies like the 1992 film
Juice
and the 1994 film
Fresh
, which also depicted teens running the streets with guns and drugs.
"It's entertaining in the end," he said, adding there "wasn't really a message" in the film. "It's not for everyone," Brown said.
Warning: Video Contains Graphic Scenes