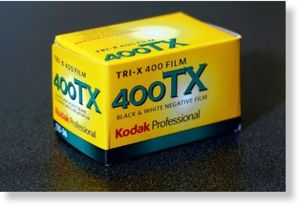 Eastman Kodak Co. is preparing to seek bankruptcy protection in the coming weeks, people familiar with the matter said, a move that would cap a stunning comedown for a company that once ranked among America's corporate titans.
The 131-year-old company is still making last-ditch efforts to sell off some of its patent portfolio and could avoid Chapter 11 if it succeeds, one of the people said. But the company has started making preparations for a filing in case those efforts fail, including talking to banks about some $1 billion in financing to keep it afloat during bankruptcy proceedings, the people said.
A Kodak spokesman said the company "does not comment on market rumor or speculation."
A filing could come as soon as this month or early February, one of the people familiar with the matter said. Kodak would continue to pay its bills and operate normally while under bankruptcy protection, the people said. But the company's focus would then be the sale of some 1,100 patents through a court-supervised auction, the people said.
That Kodak is even contemplating a bankruptcy filing represents a final reversal of fortune for a company that once dominated its industry, drawing engineering talent from around the country to its Rochester, N.Y., headquarters and plowing money into research that produced thousands of breakthroughs in imaging and other technologies.
The company, for instance, invented the digital camera - in 1975 - but never managed to capitalize on the new technology.
Casting about for alternatives to its lucrative but shrinking film business, Kodak toyed with chemicals, bathroom cleaners and medical-testing devices in the 1980s and 1990s, before deciding to focus on consumer and commercial printers in the past half-decade under Chief Executive Antonio Perez.
None of the new pursuits generated the cash needed to fund the change in course and cover the company's big obligations to its retirees. A Chapter 11 filing could help Kodak shed some of those obligations, but the viability of the company's printer strategy has yet to be demonstrated,
raising questions about the fate of the company's 19,000 employees.
Such uncertainty was once unthinkable at Kodak, whose near-monopoly on film produced high margins that the company shared with its workers. On "wage dividend days," a tradition started by Kodak founder George Eastman, the company would pay out bonuses to all workers based on its results, and employees would use the checks to buy cars and celebrate at fancy restaurants.
Former employees say the company was the Apple Inc. or Google Inc. of its time. Robert Shanebrook, 64 years old, who started at the company in 1967 and was most recently world-wide product manager for professional photographic film, recalls young talent traipsing through Kodak's sprawling corporate campus. At lunch, they would crowd the auditorium to watch a daily movie at an on-site theater. Other employees would play basketball on the company courts.
"We had this self-imposed opinion of ourselves that we could do anything, that we were undefeatable,"
Mr. Shanebrook said.
Kodak's troubles date back to the 1980s, when the company struggled with foreign competitors that stole its market share in film. The company later had to cope with the rise of digital photography and smartphones.
It wasn't until 10 years ago that the mood began to sour, said Mr. Shanebrook. By 2003, Kodak announced it would stop making investments in film. "I didn't want to stick around for the demise," he said.
Kodak shares closed Wednesday at 47 cents, down 28% after
The Wall Street Journal
reported the company was preparing a Chapter 11 filing.
Kodak has lost money each year but one since Mr. Perez, who previously headed the printer business at Hewlett-Packard Co., took over in 2005. The company's problems came to a head in 2011, as Mr. Perez's strategy of using patent lawsuits and licensing deals to raise cash ran dry.
Hoping to plug the hole, Kodak put some of its digital patents up for sale in August. Efforts to sell the portfolio have been slowed by bidders' concerns that Kodak might seek bankruptcy protection. The company has talked to hedge funds about borrowing hundreds of millions of dollars to bridge its finances until the patents sell, but the talks have faltered, people familiar with the matter said.
The first sign of acute cash pressure came in late September, when Kodak drew $160 million from its credit line at a time when it had told investors it would be building cash. The move sent Kodak's stock tumbling and raised fresh concerns about the company's viability.
Soon after, Kodak hired restructuring lawyers and advisers to help shore up its finances.
The company and its board have weighed a potential bankruptcy filing for months. Advisers told Kodak a filing would make its patent sale easier and likely allow the company to command a higher price, people familiar with the matter have said. The obligation to cover pension and health-care costs for retirees could also be purged through bankruptcy proceedings, the people said.
Those obligations - which run to hundreds of millions of dollars a year - as well as the unprofitable state of Kodak's new businesses, have made the company undesirable as a takeover target, people familiar with the matter said.
During a two-day meeting of the company's board, management and advisers in mid-December, executives were briefed on how Kodak would fund itself during bankruptcy proceedings should efforts to sell its patents fall short, a person familiar with the matter said.
Kodak is in discussions with large banks including J.P. Morgan Chase & Co., Citigroup Inc. and Wells Fargo & Co. for so-called debtor-in-possession financing to keep the company operating in bankruptcy court, people familiar with the matter said.
Kodak has also held discussions with bondholders and a group led by investment firm Cerberus Capital Management LP about a bankruptcy financing package, the people said.
Should it seek bankruptcy protection, Kodak would follow other well-known companies that have failed to adapt to rapidly changing business models. They included Polaroid Corp., which filed for bankruptcy protection a second time in December 2008; Borders Group Inc., which liquidated itself last year; and Blockbuster Inc., which filed for bankruptcy protection in 2010 and was later bought by Dish Network Corp. A bankruptcy filing would kick off what is expected to be a busier year in restructuring circles, as economic growth continues to drag and fears about European sovereign debt woes threaten to make credit markets less inviting for companies that need to refinance their debts.
Mr. Perez decided to base the company's future on consumer and commercial inkjet printing. But the saturated market has proved tough to penetrate, and Kodak is paying heavily to subsidize sales as it builds a base of users for its ink.
The company remains a bit player in a printer market dominated by giants like H-P. Kodak ranks fifth world-wide, according to technology data firm IDC, with a market share of 2.6% in the first nine months of 2011.
As the company works on a restructuring plan, a key issue for creditors is whether the printer operations are worth supporting, or whether the bulk of the company's value is in its patents.
Nortel Networks Corp., a company that also had fallen behind the technology curve, opted to liquidate itself in bankruptcy court rather than reorganize, raising a greater than expected $4.5 billion for its patent trove.
Kodak's founder, Mr. Eastman, took his life at the age of 77 in what is now a museum celebrating the founder and Kodak's impact on photography. His suicide note read: "To my friends, my work is done. Why wait?"