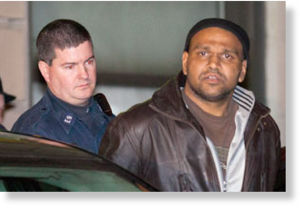 A man who confessed to a string of New Year's Day arson attacks at an Islamic cultural center and four other sites where he had personal grievances was arrested on a hate crime charge, police said.
Ray Lazier Lengend, a 40-year-old of Guyanese descent,
hurled crude firebombs at the Islamic center in part because he wasn't allowed to use its bathrooms
, a law enforcement official said.
Lengend was tracked through a stolen car with Virginia license plates believed to be at the scene of at least two of the attacks Sunday evening on a convenience store, three homes and the cultural center, police said. He was arrested Tuesday on charges including one count of arson as a hate crime, four counts of arson and five counts of criminal possession of a weapon, they said.
Lengend, who lives in Queens, was taken to a hospital for a psychiatric examination Tuesday night. He remained in custody and couldn't be reached for comment. A man who answered a telephone call at Lengend's home said he would not give out any information over the phone and hung up. There was no information on whether Lengend had a lawyer.
Police spokesman Paul Browne said Lengend made statements implicating himself in the attacks and had personal grievances with each targeted location. Crude firebombs were tossed at the convenience store, two homes in Queens, a home in nearby Nassau County and the Islamic center.
Authorities believe Lengend was kicked out of the convenience store on Dec. 27 for trying to steal a glass Starbucks Frappuccino bottle and milk. Four of the five firebombs thrown at the various locations were made from glass Starbucks bottles, police Commissioner Raymond Kelly said. The fifth likely was made from a beer bottle.
Witnesses reported the man made threats as he was escorted out of the store, Kelly said.
"When they were pushing him out of the store, he said words to the effect that, 'We're going to get even. We're going to get back at you,'" Kelly said.
No one was injured in any of the attacks, which wrought little or no damage at most of the sites.
The law enforcement official, who spoke to The Associated Press on the condition of anonymity because the case was still being investigated, said that Lengend bought five Frappuccinos, which cost about $2 each, and was given three for free the night of the attacks. He later was seen on video at a gas station a few hours before the first bomb was tossed, apparently filling up bottles with gasoline, the official said. Paper was used as a wick for at least one of the bombs.
The first hit was at 8 p.m., when a bottle was thrown at a counter at the corner store. The bomb did not explode, but gasoline leaked out and a small fire started.
Ten minutes later, a beer bottle smashed through the glass at a nearby home, setting the curtains on fire and badly damaging it. Three children and at least two adults were inside. The official said Lengend targeted that house because he believed it to be the home of a drug dealer. Authorities say he had the right street but the wrong address and didn't know the family inside.
About half an hour later, the Islamic center, the Imam Al-Khoei Foundation, was hit with two Molotov cocktails made from Frappuccino bottles, one at the entrance where about 80 worshippers were dining and one near a sign for the center's grade school. Glass shards were found at the scene.
Around 9:15 p.m., a homeowner in Elmont, just east of the city, reported a possible firebomb. He heard glass shattering, smelled gasoline and found a broken glass bottle on his porch. The official said the home belonged to a relative of Lengend and they didn't get along.
And shortly after 10 p.m., two bottles were thrown at a house that police said was used as a Hindu temple for worship services. The bottle didn't explode but caused a small fire on the lawn. The law enforcement official said Lengend targeted the home because he believed someone with whom he once had a fight lived there.
Detectives working with surveillance footage from a few of the attacks and witness descriptions of the attacker located the car at about 11:45 p.m. and staked it out. They said they noticed the man, who fit a police description of the attacker, trying to get into it Tuesday morning and took him into custody.
Authorities believe Lengend stole the car, a late-model Buick, from a rental lot at John F. Kennedy International Airport on Dec. 30. They say they found three empty Frappuccino bottles in the backseat.
Source: The Associated Press