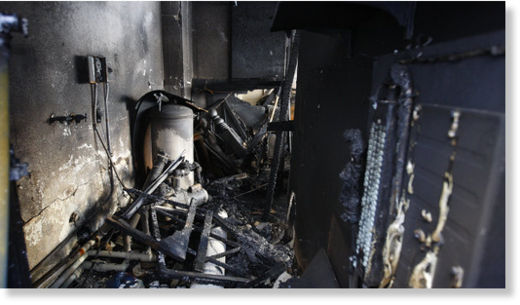 Police in New York are investigating a series of bottle bomb attacks on five houses in the city that followed 53 arson fires across Los Angeles over the weekend,
New York Daily News
said on Tuesday.
The Queens arsons, including one at a mosque, took place within a mile of each other in Jamaica between 8 p.m. and 10:15 p.m. on Sunday, the paper said.
Police are handling the Queens bottle-bombings as possible hate crimes, officials said.
On Monday, police released a sketch of the suspect and dramatic video showing the man hurling a flaming bottle at a private home on 170th St. that doubles as a Hindu place of worship.
New York Mayor Michael Bloomberg condemned the attacks in Jamaica.
"No matter what the motivation was of the individual who threw Molotov cocktails in Queens last night, his actions stand in stark contrast to the New York City of today that we've built together," Bloomberg said Monday.
He said New York hate crimes police were looking into any connection between the fire attacks in New York and Los Angeles.
The Queens arsons came after the Council on American-Islamic Relations recently called on the FBI to investigate mosque threats posted on the hate-filled blog, "Bare Naked Islam."
"Throw 10 Molotov cocktails into these mosques and burn them down," council spokesman Ibrahim Hooper quoted one post, now removed, as saying.
Police in Los Angeles have arrested a man believed to be a German citizen residing in Hollywood in connection with the Los Angeles fires.