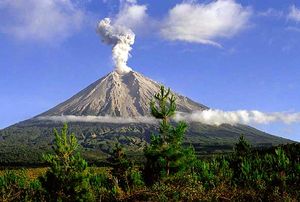 People living in the vicinity of three volcanoes in East Java have been warned to be on the alert as they were showing signs of increased volcanic activity. The three volcanoes are Mt Ijen, Mt Semeru and Mt Bromo. East Java district disaster management head Timur Siswanto said the authorities were in a state of readiness to handle any volcanic disasters and had established command posts for relief work should any of the volcanoes erupt.
He was reported as saying by the local media that Mt Ijen was showing the most activity and that people living in its vicinity had been warned not to come within a 1.5 kilometer radius of the mountain.
Besides the above three, five other volcanoes
- Mt Gamalama (Ternate Island, Moluccas), Mt Papandayan (Garut, West Java), Gunung Karangetang (northern Sulawesi ), Gunung Lokon (northern Sulawesi) and Anak Krakatau (Sunda Strait) - were also reported to have started "rumbling."
.