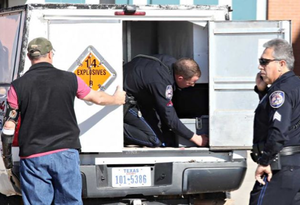 A member of the US military has been charged with trying to take explosives onto a plane at a Texas airport, says the FBI.
Thirty year-old Trey Scott Atwater was detained at a security checkpoint at Midland International airport, as he tried to board a flight on Saturday.
He was carrying explosives in military-grade wrapping, say detectives.
The suspect had been visiting relatives in Midland and was returning to a base in North Carolina when he was stopped.
The explosives were spotted in his carry-on baggage by an x-ray machine.
The airport terminal was evacuated for a short time while security checks were carried out.
Mr Atwater will be held in custody until his arraignment hearing, scheduled for Tuesday, says the Associated Press news agency.
It is unclear whether he was wearing military uniform when he was detained and US officials have given no indication as to how much explosive he was carrying.