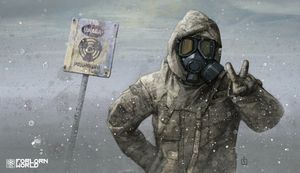 In terms of sheer chutzpah, Tokyo Electric Power Co's claim that it no longer owns the radioactive isotopes that spewed out of its Fukushima Daiichi nuclear plant in March takes some beating.
In defending a lawsuit from a Fukushima Prefecture golf club, lawyers said the radioactive cesium that had blighted the Sunfield Nihonmatsu golf course's fairways and greens was the club's problem. The utility has taken a similarly hard line defending claims from ryokan (inn) and onsen (spa) owners.
TEPCO's lawyers used the arcane legal principle of res nullius to argue the emissions that escaped after the tsunami and earthquake triggered a meltdown were no longer its responsibility. "Radioactive materials (such as cesium) that scattered and fell from the Fukushima Daiichi nuclear plant belong to individual landowners, not TEPCO," the utility told Tokyo District Court.
The chief operating officer of the prestigious golf course, Tsutomo Yamane, told
The Australian
that he and his staff were stunned: "I couldn't believe my ears. I told my employees, 'TEPCO is saying the radiation doesn't belong to them', and they said 'I beg your pardon'."
The court rejected TEPCO's argument, but ruled it was the responsibility of local, prefectural and national governments to clean it up.
The case - and the club's bid for $160 million in clean-up costs - has proceeded to the High Court amid fears the ruling could result in some local governments being bankrupted.
Mr Yamane said that, before the disaster, Sunfield Nihonmatsu, about 45km west of the stricken plant, was regarded as one of the region's finest courses and was enjoyed by about 30,000 players a year.
He said the course was showered with fallout from the accident and sections of it were now reporting readings of almost double the criteria for evacuation of 20 millisieverts a year imposed by the Japanese government for regions around the plant.
"The highest radiation amount we measured on the course was 51 microsieverts per hour (in a drain). We are getting more and more concerned about the amount of cesium on the ground," Mr Yamane said.
"Up to the end of September there was still staff working to maintain the course, but on advice from the prefectural government we had to ask them to leave."
The club launched the lawsuit after being fobbed off by TEPCO's compensation department. Mr Yamane said TEPCO was already using the District Court judgment as a legal battering ram to fend off lawsuits from other affected golf courses in Fukushima Prefecture.
"I wonder what's up with today's Japan," Mr Yamane said. "TEPCO used to keep saying nuclear power was safe and kept building plants in Japan.
"If that was true, the kind of problem we are seeing now should never have occurred."