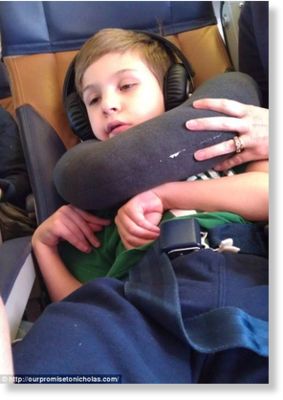 A New Hampshire couple said Saturday that Southwest Airlines flight attendants put the couple's terminally ill son at risk by ordering him out of a safety seat and into a regular passenger seat for a flight home from Florida.
Chris Dainiak and his wife, of Bedford, were told to remove 8-year-old Nicholas from his protective travel seat for a Friday flight home from Orlando to Manchester, N.H., Chris Dainiak said. Nicholas suffers from a rare illness called Batten disease and can't walk, talk, feed himself or hold his head up.
The attendants agreed Nicholas would be safer in his special seat but didn't know if it was approved by the Federal Aviation Administration, Dainiak told The Associated Press. He said the boy has used the seat on previous flights, including the Southwest flight that took the family to Orlando so they could visit Disney World.
He said he wants Southwest to develop a policy to ensure other people with disabled children aren't put in similar situations.
"They just wanted to cover their butts to make sure that they weren't going to be fined by the FAA and, therefore, they decided the best thing for Southwest was to put my son at risk," Dainiak said.
Southwest is looking into the particulars of what happened and contacted the family Saturday to learn more, said spokesman Brad Hawkins. He said the FAA has regulations regarding the size of medical seats, but he didn't know if the Dainiaks' seat was in compliance.