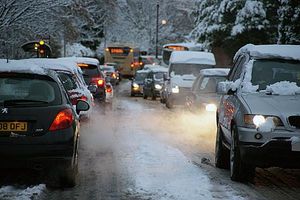 Hundreds of drivers remained trapped on Friday as a cold front of heavy snowfall and gale-force winds swept across several parts of central and northern Greece.
Emergency crews rescued more than 1,000 drivers trapped along the Egnatia Highway near the towns of Kozani and Grevana, but hundreds more remained confined to their cars.
Authorities opened up schools to host the vast amount of people who would otherwise have been forced to spend the night in their vehicles near the town of Kozani, in northern Greece.
Kilometre-long queues were reported on the motorway along Lamia as drivers had to reduce their speed or stop to fit snow chains.
Meanwhile, power cuts were reported in 15 villages near the town of Konitsa, 9 near Tsoumenka and 20 near the town of Karditsa, while schools in Kastoria, Grevena, Florina and Kozani were closed to students.
The sudden wintry weather, with strong winds and low temperatures, struck late on Wednesday as many people prepared to leave the Greek capital and head towards their hometowns, villages and islands for the Christmas break.
Source: Deutsche Presse-Agentur