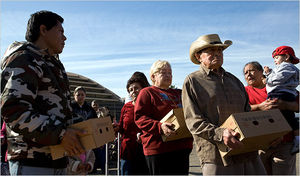 More than 1 million jobless California workers could have their unemployment insurance benefits cut off soon if Congress does not continue federally financed benefit extensions of up to 99 weeks, state officials said Wednesday.
At least 100,000 of those workers, those who have been unemployed the longest, could see a cutoff of benefits as early as the first week of January.
The state has more than 2 million unemployed workers, and 1.1 million of them are now collecting benefits -- either the 26 weeks of state-financed payments, or the up to 73 weeks of federally financed extended benefits in five tiers, in order, of 20, 14, 13, six and 20 weeks. Benefits range from $40 to $450 a week.
In all, California is paying out about $1.2 billion in state and federal unemployment insurance benefits a month.
The state's Unemployment Insurance Fund, which is supported by payroll taxes paid by employers and pays those first 26 weeks of benefits, went into the red a couple of years ago and has been largely supported ever since by federal loans -- now nearly $10 billion.
The federal extensions are now tied up in a partisan political wrangle involving a Republican-controlled House, a Democratic-controlled Senate and the Obama White House. Without action, they will expire at the end of the year.
Dan Stephens, a spokesman for the Department of Employment Development, said that if the political deadlock continues, those receiving the initial 26-week segment of benefits would continue to receive payments until the time expired, but could not apply for extensions. Those receiving the first four tiers of federal extensions would receive benefits until their tier periods expired, but not be able to move up to another tier.
Those on the last, 20-week tier -- about 100,000 jobless workers -- would have their benefits cut off almost immediately, Stephens said, without congressional action.
They would join the 584,637 unemployed Californians who already have exhausted all tiers of benefits.