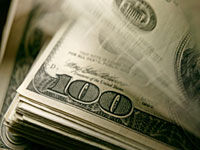 Investors appeared to have lost faith in stocks this year.
Just over a week ago, equity mutual funds globally had the second-biggest one-day outflow of money in 2011, capping four straight weeks of net redemptions, according to data from EPFR Global.
Worldwide, investors have yanked $34 billion out of equity funds this year and put $75 billion into bonds.
In the U.S., stock funds, including both exchange-traded funds and mutual funds, squeaked out a miniscule $4 billion net inflow this year, while fixed income-focused managers collected a monster $86 billion, according to EPFR.
Burned by two bubbles in the last decade and facing the second global financial crisis in three years, investors simply don't have the risk appetite for stocks.
Investors tried to embrace equities in the first part of the year, but began to pull money out during the summer as the
debt ceiling debate
domestically flared up and fears of a Greek bailout grew.
"Test of the October lows is underway," wrote Mary Ann Bartels, technical research analyst at Bank of America Merrill Lynch, in a note to clients Monday. "Santa is not coming. Last week the S&P 500 fell below its 50-day moving average, which is the new level to watch: 1228."
Ironically, a
huge rally
on Wall Street Tuesday erased all of last week's loss in a single day as strong
housing data
rallied financial stocks. It also snapped back above the 50-day moving average. If the rally holds, it would mean investors pulled the most money out of stocks since August at exactly the wrong time.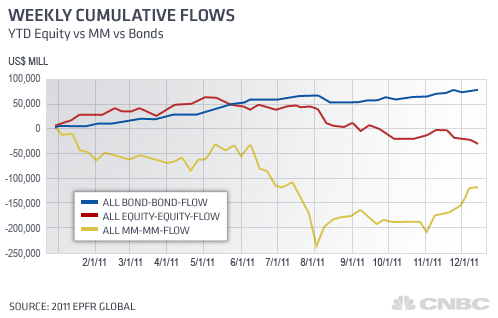 Still, it's been a year of stomach-churning volatility so traders aren't exactly counting on a follow through into the end of the year. The S&P 500 is down about 1 percent for 2011 and traders expect any rally to be sold until the end of the year, keeping the benchmark in the red.
The outflows are making "an impact felt on the market," said Paul Hickey of Bespoke Investment Group. "The Nasdaq-100 has only had three days this month where the close was higher than the open and the S&P 500 opened right near its highs of the day every day last week."
And it's not just bond funds seeing the love from risk-averse investors. Money market funds [cnbc explains] brought in $3.2 billion globally last week, extending their longest weekly inflow streak since a 12-week run during the financial crisis at the end of 2008, according to EPFR, a research firm that tracks fund flow data.
Beyond the money
Investors continue to reject stocks and their growing dividend payouts for low-yielding Treasuries and T-Bills. The 10-Year Treasury, hovering around 1.9 percent, hit a 2 ½ month low this week. On Tuesday, the
yield
on the 1-month Treasury bill turned negative. Meaning, investors are paying the U.S. government for the privilege of borrowing their money.
"The direction of yields on Treasurys is confirming a risk-off trade is underway," wrote Bank of America's Bartels. "We have projected 10-year Treasury yields down to 1.50 percent and for 30-year T's to break the lows of 2.5 percent toward 2.1 percent. Bonds are still favored over stocks."