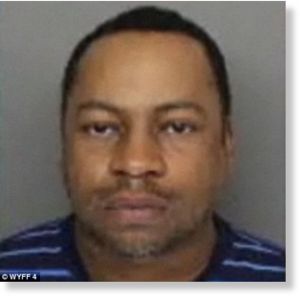 A South Carolina man has been charged with murder in the death of his wife, who was fatally stabbed inside a Greenville County Walmart this weekend.
But as shoppers looked on in horror, store management roped off the area for homicide investigators and continued to operate as usual.
Avery L Blandin, 46, is accused of killing Lilia Blandin, 38, who worked at the Woodforest Bank inside the discount retail store in Berea.
Greenville County Sheriff's Office Master Deputy Jenning said police were called to at 1:21pm on Saturday to the Walmart at 6134 White Horse Road, where they found Mrs Blandin with stab wounds.
She was transported to the hospital but died shortly after.
Witnesses told deputies they heard a verbal fight between the woman and a male suspect, which escalated to a physical fight.
Shopper Phillip Tallent told local station WYFF4 he was looking for Christmas lights with his family when the horrifying scene unfolded, and he intervened.
Mr Tallent to the station he 'When I looked, I could see a couple of stabbing motions, and I really started to run towards the front (of the store).'
He continued: 'I seen it when (the man) was making a stomping motion at (Lilia Blandin) across her chest and neck area. I picked up the chair and I hit him.'
Mr Tallent said a man deputies identified as Avery Blandin ran towards the door with several witnesses failing in attempts to stop him.
He said the man fled the scene after pulling out a second knife.
'That's when I let him go because I already seen what he did with the first one, so I wasn't going to get involved with the next one,' Mr Tallent said.
Deputies confirmed a male suspect fled the scene. Mr Tallent told WYFF4 he was able to get the tag number of the car the man got into and gave it to investigators.
Walmart company spokesman Dianna Gee told Greenville's News Channel 4 the company is assisting with the investigation and had turned over surveillance video footage from the store.
'We did, as requested, close our grocery checkout area to allow the police to do their work and provide some level of privacy, given the circumstances,' Ms Gee said.
'This was a senseless act of violence, and our thoughts and prayers go out to the victim's family during this difficult time.'
Mr Blandin, of Simpsonville, was identified and located after the stabbing when he was involved in a traffic collision.
Deputies said Mr Blandin was taken to Greenville Memorial Hospital to receive treatment for injuries and will later be taken to Greenville County Detention Center to await a bond hearing on Monday.
It was not immediately known if he has an attorney.