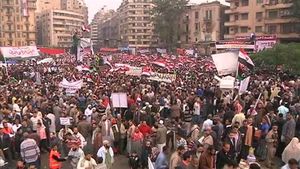 Over 50,000 Egyptian protesters flocked to Cairo's Tahrir Square Friday to pressure the military government to transfer power to elected civilian rule, after the cabinet tried to enshrine the army's role in a constitutional proposal.
The protesters, mostly bearded men and veiled women, sang religious chants before Friday prayers, while others handed out flyers demanding the withdrawal of the constitutional proposal and presidential elections be held no later than April 2012.
"Does the government want to humiliate the people? The people revolted against Mubarak and they will revolt against the constitution they want to impose on us," a member of an orthodox Islamic Salafi group cried out over loud speakers, to the cheers of thousands of protesters.
The mass rally recalled the demonstrations in Tahrir Square during the 18-day bloody uprising that toppled President Hosni Mubarak on February 18.
The rally was dominated by the country's most organized political group, the Muslim Brotherhood.
It was called to protest
a document floated by the government which declares the military the guardian of "constitutional legitimacy,"
suggesting the armed forces could have the final word on major policies.
The Brotherhood says
the document reinforces "dictatorship,"
and has promised an escalation if it is not shelved.
Tahrir Square was the epicenter of an uprising that ousted President Hosni Mubarak from office in February.
Organizers said Friday's rally was an attempt to put "the revolution back on track."
Other groups such as the April 6 movement are demanding a timetable for the end of military rule which began after Mubarak was deposed.
Deputy Prime Minister Ali al-Silmi showed a constitutional draft to political groups earlier this month which would give the army exclusive authority over its internal affairs and budget.
But negotiations over the plan between the government and Islamists and liberals have broken down, prompting political parties and democracy campaigners to protest.
"The protest ... is to reclaim power from the army and oppose Silmi's document," said Mohamed Fathi from the youth group the Front to Protect the Revolution.
Any extended protest by demonstrators camping in Tahrir Square could potentially destabilize preparations for a parliamentary vote due on November 28.
Political groups have demanded the military council announce a clear timetable for handing power over to an elected civilian government with a deadline for presidential elections no later than April 2012.
The Associated Press and Reuters contributed to this report.