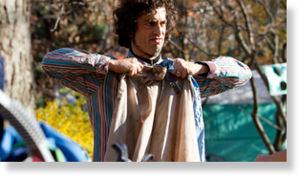 Authorities in several cities growing impatient with encampments
A lawyer representing Occupy protesters in Toronto has won an injunction against a city eviction notice that was issued earlier Tuesday.
Late Tuesday afternoon, Judge David Brown granted a temporary stay of the city's eviction notice to protesters occupying St. James Park.
Brown said he needs more information before he can rule on the city's plan to remove protesters from the park. The judge will hold a hearing on Friday to further discuss the matter and deliver his verdict by 6 p.m. ET on Saturday.
City officials issued eviction notices to Occupy protesters in both Toronto and Calgary on Tuesday, as authorities in multiple Canadian cities grew impatient with the tent encampments that first sprang up nationwide in mid-October.
The decision means they can't be removed from a downtown park at least until the judge hears legal arguments over the city's eviction order.
Protester Jared Khan says the judge's ruling brought about a "jubilant" reaction at St. James Park, just east of Yonge Street.
Many in the Occupy camp had said they wouldn't move and were bracing for a confrontation with officials.
The Occupy movement decries corporate greed and is protesting the gap between the rich and the poor, or the 99 per cent.
The showdowns come the same day police moved Occupy Wall Street protesters out of a park in Manhattan.
In Toronto, the city began issuing eviction notices at 10 a.m. ET and called on protesters who have been in the downtown park for more than a month to leave immediately.
Before the injunction, protesters had been given until early Wednesday morning to leave with their belongings, but some members of the group said they would stand their ground.
"If they want me to leave, they'll have to kill me first," protester Hannah Kovacs told reporters as he burned one of the notices.
Toronto Coun. Norm Kelly, who is also the city's Parks and Environment Committee chair, said the protesters have had long enough to make their point.
"People believe that there isn't that much more to be said and they want their park back," Kelly told CBC News. "That's reflected in the number of calls that are escalating on a daily basis at City Hall."
Although the temporary reprieve means there will be no midnight confrontation between police and protesters, the judge also said that no new tents or occupiers should be allowed to join the encampment.
In Calgary, police handed out eviction notices a day after telling them to remove empty tents and other items left unattended on the protest site at Olympic Plaza.
Protesters are being told to leave the public space by Wednesday.
In Vancouver, police, firefighters and city workers moved in on the campsite, removing several tents and tarps and repositioning several others.
The city workers were at the camp to bring it into compliance with fire and health regulations.
Many of the activists remained peaceful while the city workers moved in, but some protesters yelled at the city staff as they went tent to tent conducting the clean-up.
One lone activist sat down in an intersection, holding a protest sign, and was arrested at around 10:30 a.m. PT.
The City of Victoria sought an injunction in B.C. Supreme Court to remove tents from the camp at Centennial Square. The case was adjourned until Thursday to allow demonstrators more time to prepare.
In Regina, police handed out tickets to five men and two women in Victoria Park late Monday, arresting one man who was intoxicated. The seven were charged with violating the Regina Parks and Open Space Bylaw, which bans people from remaining in parks between 11 p.m. and 6 a.m.
Not every city has made a move against protesters.
In Ottawa, protesters say they are preparing tents for the winter and simultaneously gearing up for a global day of action Thursday for all Occupy movements.
In Montreal, dozens of demonstrators gathered in front of the U.S. Consulate Thursday afternoon in a show of support for the evicted Occupy Wall Street protesters.
They then returned back to Victoria Square, where they set up camp more than a month ago. Those camping out in the square said they're cautiously optimistic they won't be evicted from their site. The city of Montreal said earlier in the day it doesn't take cues from New York City and has no plans to remove the encampment.
In Saint John, where protesters are camping in the city's central square, a city councillor said Monday night it was time to end the encampment.
Occupy demonstrators' tents have already been removed from London, Ont., Saskatoon and Halifax camps. In Halifax, police dismantled tents in Victoria Park on Friday and 14 people were arrested - all accused of obstructing justice.