This is not a great time to be a banker - - whether your customers are on Wall Street or Main Street.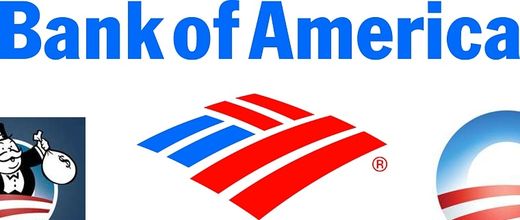 Battered by a slowing economy, a falling stock market and their customers' worries about a looming recession in Europe, Goldman Sachs and Bank of America reported Tuesday that they lost money on their core banking operations.
Bank of America was able to record
a profit of $6.2 billion for the quarter
, thanks to accounting gains and the sale of a large stake in a Chinese bank, which offset lower revenue and income in its credit card, real estate and investment banking businesses.
The deal also helped knock Bank of America off its perch as the largest U.S. bank by assets, which fell to
$2.21 trillion
in the quarter. The Charlotte, N.C., bank cedes bragging rights to rival JPMorgan Chase & Co., which reported total
assets of $2.28 trillion
.

Comment: What are we supposed to do? Feel sorry for them?! The poor banksters only have over 2,000 1 Billion dollar pile$ of money. How will Bank of America ever resume its perch? Inquiring minds want to know!
The slimming down reflects Bank of America's strategy of cutting costs and selling off businesses that don't fit into its simpler banking model. CEO Brian Moynihan told analysts Tuesday he had begun the process of a "strategic transformation of the company."
Goldman Sachs is also tightening its belt
as demand shrinks for its investment banking services. Goldman's core client base of large companies have sidelined potential mergers, scrapped new public offerings of stocks and shelved plans to raise money through bond sales until the global economic outlook improves.
The profit drop in those core banking and trading businesses was compounded by even bigger losses the bank's investing and lending division, which places bets with the firm's own money on investments.
With profits shrinking, so is Goldman. The largest U.S. investment bank by assets cut its work force by 4 percent during the quarter and cut salaries and bonuses by 59 percent.
In a statement, Chief Executive Lloyd Blankfein blamed the third-quarter loss on difficult market conditions and a lack of confidence among investors and corporate clients.
"Our results were significantly impacted by the environment and we were disappointed to record a loss in the quarter," Blankfein said.
At 84 cents per share, Goldman's third-quarter loss was much bigger than the 16-cent loss analysts had expected by analysts. A year ago, the bank earned $2.98 per share.
The $428 million loss was only its second quarterly loss since Goldman went public in 1999. (The first one -- $1.6 billion -- followed the collapse of Lehman Bros. in the fourth quarter of 2008.)
Goldman's third-quarter net revenue fell by 60 percent from a year earlier to $3.6 billion -- the sixth consecutive year-over-year revenue decline. One measure of how tough these times are for investment bankers: Before the recent downturn, Goldman could generate a return on equity of more than 30 percent per quarter. In the first three quarters of 2011, Goldman's return on equity fell to just 6 percent.
While Goldman's investment banking clients on Wall Street hunkered down in the third quarter, Bank of America's customer on Main Street were also cutting back. Consumer banking was hit hard as American households coped with high unemployment and falling home prices by cutting spending and shunning new loans. Because Bank of America counts about half of all American households as its customers, the bank's results are considered a proxy for the health of the U.S. consumer.
With no signs of recovery in the housing market, the bank's consumer real estate business reported a loss of $1.1 billion, while revenue declined 22 percent to $2.8 billion. The bank said it wrote fewer real estate loans due to lower demand.
One of the largest credit card issuers, Bank of America's revenue from the division dropped 16 percent to
$4.5 billion
. Customers used less credit than last year, leading to lower income for the bank.
The bank set aside less money for losses as more Americans got their financial houses in order and paid their bills on time. Bank of America's provision for losses from credit cards decreased $2 billion from a year ago to $1 billion.
Bank of America earned 56 cents per share, following a loss of $7.3 billion, or 77 cents a share in the same quarter last year. Analysts surveyed by FactSet forecast the bank would earn 28 cents per share.
The income included accounting gains of $4.5 billion and $1.7 billion, both related to drops in the value of its debt. When the price of the bank's debt falls, the bank could theoretically buy it back at a lower cost. Accounting rules require that an income gain be recorded when that happens.
Bank of America gained $3.6 billion from selling its stake in China Construction Bank and recorded a loss in its private equity business of $2.2 billion as the value of its investments fell.
The sale of its stake in the Chinese bank was part of the bank's effort to focus the company and shed non-core businesses. During the quarter Moynihan realigned the business and reshuffled top management. He got rid of two of the bank's top executives - head of wealth management Sallie Krawcheck and head of consumer banking Joe Price. Moynihan replaced them with two chief operating officers - David Darnell to head all consumer businesses and Tom Montag to oversee all commercial relationships.
The bank also announced 30,000 job cuts during the quarter as part of a plan to cut costs by $5 billion a year in the next three years.
The Associated Press and Reuters contributed to this report.