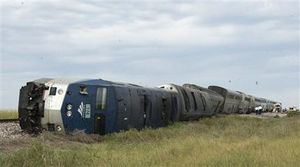 An Amtrak train headed from California to Chicago struck a demolition crane in southwest Nebraska on Friday, forcing two locomotives and three passenger cars off the rails but causing no major injuries, officials said.
The train, which was running on Amtrak's California Zephyr route from Emeryville, Calif., to Chicago, had 175 passengers and 17 crewmembers on board when it struck the crane at about 8 a.m. near Benkleman, which is near Nebraska's border with Kansas and Colorado.
The two locomotives that left the tracks tipped over, but the three derailed passenger cars did not, Amtrak spokesman Marc Magliari said. The seven other passenger cars remained on the track.
Twenty-two people were injured, twenty of them who were on the train, Dundy County emergency director Elaine Frasier said. She said she didn't know whether the other two people injured were on the crane or elsewhere nearby.
Those hurt in the crash were taken to hospitals, where some of them were treated for back, shoulder and neck injuries. None of the injuries were critical, and most of them had been released by Friday evening, Frasier said.
The other passengers were taken to a nearby high school and were to be bused to their destinations.
"They were given lunch and I think a good time was had by all," Frasier said. "We all felt very fortunate that no one was critically injured."
The crane was tearing down an old grain bin about 4 miles west of Benkelman, Frasier said.
Magliari said somehow the train collided with the crane.
"Our understanding is a portion of a crane working on a demolition project near the tracks became an obstruction to us as our train approached. Because a portion of this train was obstructing the tracks, we collided with it," he said.
"For us to contact it, it had to be obstructing the tracks somehow, either across the tracks or laying on laying on the tracks, or somehow obstructing the path of the train," Magliari said.
Passenger Harvey Evans, 37, of Grand Island, Neb., said he heard the train's brakes just before the accident occurred.
"(The) train's rolling, rocking, moving side to side," said Evans, who grabbed a chair to steady himself. "All of a sudden we stopped."
It's "been a long, rough trip," said Evans, in part because the train traveling to Chicago from Emeryville, Calif., across the bay from San Francisco, already was running about eight hours behind schedule after hitting an abandoned car on the tracks Wednesday night near Salt Lake City.
"It's been one thing after another," Evans said.
Amtrak said passengers who weren't taken to hospitals rode school buses to a high school gym in Benkelman, where Dundy County-Stratton Public Schools secretary Stacey Waters said volunteers were providing food and water.
Amtrak was renting private buses so the passengers could resume their journeys east, Magliari said.
It was unclear how fast the train was going through the relatively unpopulated stretch of southwest Nebraska, but the accident was being investigated.