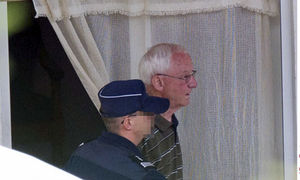 Jens Breivik in state of shock over actions of Anders Behring Breivik and says he wishes his son had killed himself
Sitting in his villa in the French village of Cournanel - population 500 - surfing the internet for news of the bomb blast and massacre back home, retired Norwegian diplomat Jens Breivik had no idea that, for him, the worst was to come.
Today the country home near the Pyrenees in south-west France, where he had hoped to spend his retirement in peace, is surrounded by gendarmes "for his own protection".
And the most obscure details of his 70-year life were being picked over for clues to why his son, "a very ordinary boy", turned into an assassin. The truth is that Jens Breivik has no more idea than anyone else. Possibly less. Anders Breivik had never lived with his father and had not seen him since he was a teenager.
"I view this atrocity with absolute horror," his father told Norwegian journalists. "My condolences go out to all those who have suffered because of this. I am in a state of shock. I have not recovered."
In an interview with the Swedish tabloid
Expressen
, Breivik said he wished his son had killed himself.
"I don't feel like his father," Breivik said. "How could he just stand there and kill so many innocent people and just seem to think that what he did was OK? He should have taken his own life, too. That's what he should have done."
Breivik said he first learned the news of his son's attacks from media websites. "I couldn't believe my eyes," he said. "It was totally paralysing and I couldn't really understand it. I will have to live with this shame for the rest of my life. People will always link me with him."
Jens Breivik was an economist at the Norwegian embassy in London and had already been married and had three children when he met Anders's mother, Wenche Behring, a nurse living in the city with her daughter Elisabeth from a previous relationship. Within a year of the boy's birth, in February 1979, the couple had split. Jens Breivik remained in London and Behring moved back to Oslo with Anders and his elder half-sister.
Anders's mother married a Norwegian army major and settled in a rented apartment in Oslo. His father married a fellow embassy worker, Tove Overmo, and moved to Paris, when Jens Breivik was transferred there.
Breivik and his new wife, who had a holiday home in Normandy, wanted to bring the child up in France, but a Norwegian court gave custody to Behring. Anders regularly visited his father and stepmother in France until they divorced when he was 12 years old. "We never lived together, but we had contact during his childhood," Jens Breivik said. "When he was young he was a very ordinary boy. He was quite inward and wasn't interested in politics at the time."
Father and son appeared to have got on during the early years. When Anders reached adolescence his behaviour became more rebellious and wayward. A fan of hip-hop music, Anders and his gang of friends would reportedly spend their evenings hanging around Oslo, spraying tags and graffiti on buildings. He is said to have stopped seeing his father in 1995.
In his "manifesto", Anders Breivik blames his father for the estrangement, which he claims came after he was caught spraying graffiti on walls. "I have not spoken to my father since he isolated himself when I was 15. He was not very happy about my graffiti phrase from 13 to 16," he wrote. "He has four children, but has cut off contact with all of them. So I think that it is pretty clear who is at fault."
He added: "I tried contacting him five years ago, but he said he was not mentally prepared for a reunion."
Several newspaper reports described Breivik as a "mummy's boy", claiming he had few friends, no serious girlfriends, and had lived with his mother, who is now 64, until two years ago, when he was 30.
While close to Behring, he is said to have railed against her liberal views and against his upbringing. Both his natural parents are said to hold left-of-centre political views. Breivik wrote that his parents supported the policies of the Norwegian Labour party and that his mother was a moderate feminist. He wrote: "I do not approve of the super-liberal, matriarchal upbringing as it completely lacked discipline and has contributed to feminising me to a certain degree."
Breivik also criticised his half-sister Elisabeth, who married and moved to the US, and his stepfather, Tore. He said Tore was "very likable" but also "very primitive".
His descriptions of his stepmother, Tove, who worked at the embassy in Paris dealing with applications from immigrants, with whom he remained on good terms, were even more chilling. He wrote that she was "very intelligent" but obviously "a traitor" and a willing participant in the "indirect genocide of Norwegians through the continued Islamisation of Norway ... although I care for her a great deal, I wouldn't hold it against the [Knights Templar] if she was executed during an attack," he wrote.
Also in the manifesto Breivik boasted about how he had avoided compulsory military service in Norway by insisting he was not prepared to lay down his life for the country's political parties.
After leaving his mother's home in Oslo two years ago, he moved to the town of Rune, north-east of the Norwegian capital, and set up an organic farming business. This gave him the cover to buy the fertiliser used to make the bomb that exploded near the prime minister's office in Oslo on Friday, shortly before Breivik went on a killing rampage on the nearby island of Utøya.
Jens Breivik is now planning to return to Norway to speak to police.
On Monday gendarmes were sent to his home in Cournanel in the Aude to protect him and his current wife, Wanda, who is also Norwegian.
Antoine Leroy, state prosecutor at Carcassonne, said the officers were there in a "preventative role".
"There is no specific evidence to make us believe there is the slightest threat against this man, but it is prevention. There have been rumours of searches, but this is wrong. There has been no legal action at Cournanel," Leroy told French journalists.
The gendarmes have said they are expecting to be posted to guard the Breivik house for some time. Leroy confirmed reports that members of the French Foreign Legion had been seen outside the villa on Sunday, but said this was because a Legionnaire was acting as a translator between the couple and gendarmes.
Breivik has since refused to answer questions from journalists outside his home. Wanda, who reporters said does not appear to speak French, said in Norwegian that she had never met her stepson.