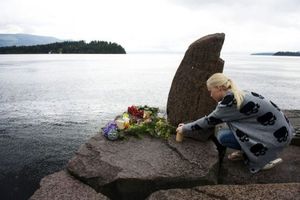 Anders Behring Breivik told a Norwegian judge on Monday his bombing and shooting rampage that killed scores aimed to save Europe from a Muslim takeover, and said that "two more cells" existed in his organization.
Breivik's remarks at the closed-door custody hearing were relayed by the judge, Kim Heger, at a news conference.
The killer has previously said he acted alone and police had earlier said they were trying to confirm this.
But after Breivik's claim about other cells, police attorney Christian Hatlo said "we cannot completely rule out" the possibility that others were involved in Friday's attacks.
Police revised the death toll downwards to 76 from 93, saying eight people were now known to have died in the bomb blast in central Oslo, and 68 on the island of Utoeya.
It was not clear whether Breivik is in fact part of an organization, although he has written about a revival of the Knights Templar, a medieval order of crusading monks.
After the hearing, Heger said he had ordered Breivik detained in solitary confinement for eight weeks, with no letters, newspapers or visits, except from a lawyer.
The detention, in line with a request from prosecutors, will allow them to investigate the case against Breivik.
Jeering crowds awaited Breivik at Oslo District Court.
"Get out, get out!" shouted Alexander Roeine, 24, banging on a police car he wrongly believed contained the mass killer. In fact police brought Breivik through a side entrance.
"Everyone here wants him dead," Roeine said, adding that he knew one of the dead and three survivors of the attacks.
Breivik had wanted to explain in public why he perpetrated modern-day Norway's worst peace-time massacre. He was denied a public platform, but the judge, in his news conference, gave an account of what the accused 32-year-old had said.
"Mass Imports of Muslims"
Heger said Breivik had accused the ruling Labour Party of betraying Norway with "mass imports of Muslims."
He said his bombing of government buildings in Oslo and massacre at a summer camp for Labour's youth wing was aimed at deterring future recruitment to the party.
"The goal of the attack was to give a strong signal to the people," the judge quoted Breivik as saying.
Breivik's custody can be extended before his trial on terrorism charges. Police say the trial could be a year away.
"We want to see him really hurt for what he did," said Zezo Hasab, 32, among a crowd who gave Breivik a furious reception.
After the hearing, a police jeep drove away carrying an unshaven Breivik, with close-cropped blond hair and wearing a red jumper with a lighter red shirt underneath.
Norwegians held a minute's silence for Breivik's victims.
"In remembrance of the victims ... I declare one minute's national silence," Prime Minister Jens Stoltenberg said on the steps of Oslo University, flanked by Norway's king and queen.
The silence stretched to five minutes as thousands more stood around a carpet of flowers outside nearby Oslo cathedral. Only squawking seagulls and a barking dog broke the silence.
"This is a tragic event to see all these young people dying due to one man's craziness. It is important to have this minute of silence so that all the victims and the parents of the families know that people are thinking about them," said mechanic Sven-Erik Fredheim, 36, shortly before the silence.
Breivik planted a bomb on Friday outside Stoltenberg's Oslo office which killed eight, then drove to the wooded island of Utoeya and shot dead 68 at the Labour Party youth camp.
In a rambling 1,500-page tract posted online just before the massacre, Breivik explained how violence was needed to rescue Europe from Islam, immigration and multi-culturalism.
If he survived his assault and was arrested, this would "mark the initiation of the propaganda phase," he wrote.
His lawyer, Geir Lippestad, said: "He has been politically active and found out himself that he did not succeed with usual political tools and so resorted to violence."
The judge's decision to close the hearing to the public followed an outcry from Norwegians enraged at the possibility that Breivik would be allowed a public platform for his views.
A Facebook group called "Boycott Anders Behring Breivik" carried the message: "He has planned this stage, to get propaganda. Do NOT let him get that freedom ... Boycott all media describing the Norwegian terrorist and his beliefs."
The maximum jail term in Norway is 21 years, although that can be extended if there is a risk of repeat offences. "In theory he can be in jail for the rest of his life," said Staale Eskeland, professor of criminal law at the University of Oslo.
Questions for Police
Police handling of the crisis may come under more scrutiny after the revision to the death toll, which a police spokesman attributed to difficulties in gathering information at Utoeya.
Daily Dagsavisen asked "Why didn't you come earlier?" citing screams by youth as police arrived on the island -- an hour after they were notified of the shooting.
Earlier police efforts to reach the island stalled after one boat, overloaded with officers and equipment, was forced to stop when it began to take on water.
Police had believed Breivik acted alone after losing faith in mainstream parties, even those that have gained popularity and parliamentary seats on anti-immigration platforms in otherwise liberal, tolerant European nations, including affluent Norway.
The judge said Breivik's statements required investigation, including his remark about the existence of two more cells.
The attack was likely to tone down the immigration debate ahead of September local elections, analysts said, as parties try to distance themselves from Breivik's beliefs and reinforce Norwegians' self-image as an open, peaceful people.
Party leaders have agreed to delay the start of campaigning for the polls until mid-August, Norwegian news agency NTB said.
Norway's immigrant numbers nearly tripled between 1995 and 2010 to almost half a million. Arguments that many were drawn by generous welfare handouts spurred the growth of the Progress Party which became Norway's second biggest in parliament after the 2009 election on a largely anti-immigration platform.
Breivik once belonged to the party, but left saying it was too politically correct. He then began scheming to "resist," burying ammunition, weight-lifting, storing credit cards and researching bomb-making while playing online war games.
After three months of making explosives on a remote farm, Breivik drove a hire car packed with the device to Oslo, detonating it outside government offices.
He then drove to Utoeya, 45 km (28 miles) away. Dressed as a policeman, he calmly shot down Labour Party youngsters at the summer camp. His terrified victims tried to hide under beds or in the woods. Some leapt into the lake to escape.
"This is going to be an all-or-nothing scenario," Breivik wrote in his English-language online journal. "First coming costume party this autumn, dress up as a police officer. Arrive with insignias:-) Will be awesome as people will be very astonished:-)."