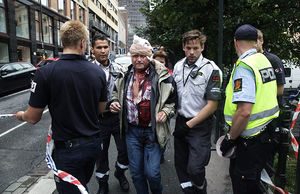 Oslo - A 32-year-old man accused of this country's worst massacre since World War II arrived for a closed arraignment hearing on Monday shortly after Norwegians paused in grief and self-examination for a minute's silence to mark the deaths of at least 93 people in last Friday's attacks.
A lawyer acting for Anders Behring Breivik, the only person accused so far in the killing, had indicated that his client wanted to wear uniform in court and to use his appearance as a platform to expound on his views, presenting judicial authorities with a choice between denying him the opportunity to do so, and allowing a public hearing reflecting Norway's reputation for openness but possibly provoking public turmoil.
Shortly before news agencies reported Mr. Breivik's arrival for his first court appearance in the massacre, the court said in a statement, "Based on information in the case, the court finds that today's detention hearing should be held behind closed doors."
"It is clear that there is concrete information that a public hearing with the suspect present could quickly lead to an extraordinary and very difficult situation in terms of the investigation and security," the court said, according to The Associated Press.
Minutes earlier, as noon approached, Prime Minister Jens Stoltenberg stood before crowds of people and urged them "to remember the victims. I hereby declare one minute's silence across our country."
All that could be heard in some places was the cry of gulls as trams stopped, cars pulled over and Norwegians bowed their heads, standing to attention with their hands clasped in prayer. Even after the formal 60 seconds, many seemed reluctant to move on, locked in private thoughts.
Rescue workers in red suits and fluorescent jackets stood in silence on a lakeshore near Utoya island outside Oslo where at least 86 of the dead perished on Friday in a rampage of gunfire that lasted at least 90 minutes. Earlier the same day, a huge bomb explosion had rocked government offices in central Oslo, killing seven people.
Mr. Breivik admits to the shootings and the bombing, his lawyer, Geir Lippestad, has told Norwegian news media, but he rejects "criminal responsibility." Mr. Lippestad said that Mr. Breivik insists that he acted alone, and alone wrote a mammoth manifesto - rambling from a hostile historical look at Islam to recipes (and price lists) for bomb manufacture to his family's pressure on him to date.
"He has said that he believed the actions were atrocious, but that in his head they were necessary," the lawyer said. "He wanted a change in society and, from his perspective, he needed to force through a revolution. He wished to attack society and the structure of society."
According to his lawyer, Mr. Breivik had requested to appear in some kind of a uniform during the hearing - the exact kind was not known - apparently seeking a global platform for his right-wing, and anti-Muslim views.
Mr. Breivik also clearly wants to leave a legacy and thinks he will create some kind of mass following, said Tore Bjorgo, one of Norway's most respected scholars of right-wing extremism. "He had this strange idea that he will provoke a mass following, despite the violence, which is why I put it in a Christian frame," said Mr. Bjorgo, a professor at the Norwegian Police University College.
News reports said the prosecution would ask for Mr. Breivik to be held in pretrial custody for eight weeks - twice the usual span of pretrial detention.
The minute's silence in central Oslo and elsewhere came after a morning when people gathered quietly, some in tears, to contemplate the spreading blanket of bouquets in front of the Oslo Cathedral.
In the same place on Sunday, the royal family and average citizens alike, some traveling long distances, came to a memorial service for the dead in the cathedral. Long lines of people of all ages and colors waited patiently and quietly, some of them crying, to lay flowers or light candles. Someone propped up a radio on a post so those waiting could listen to the service inside.
Unexpectedly on Monday, the hunt for evidence also spread to southern France, where, The Associated Press reported, French gendarmes searched the house of his father, Jens Breivik, who was said earlier to have lost contact with his son many years ago. It was not clear what the officers were looking for or what they had found.
The Norwegian police and security services meanwhile faced numerous questions about their slow response to the reports of
shooting on Utoya
, where the country's governing Labor Party was holding its annual political summer camp, considered Norway's nursery school for future leaders.
The police took an hour to arrive on the island after the first reports, and officials said that it was hard to find boats and that their helicopters were only capable of surveillance, not of shooting down the killer.
Some speculated that Mr. Breivik had wanted an open court proceeding on Monday in order to further publicize his anti-immigrant, anti-Muslim ideas, which center around the conservation of cultural and Christian values in the face of what he sees as a continuing effort by Islam to conquer Europe since the Ottomans were stopped at the gates of Vienna in 1683. His manifesto, called "2083 - A European Declaration of Independence," seemed intended to reflect the 400th anniversary of the siege.
Mr. Breivik was said by analysts to have been an occasional commenter on a blog,
Gates of Vienna
, which is topped by these words: "At the siege of Vienna in 1683 Islam seemed poised to overrun Christian Europe. We are in a new phase of a very old war."
According to the police, when he surrendered, Mr. Breivik was carrying an automatic rifle and a pistol and he still retained "a considerable amount of ammunition."
Doctors have said that he was apparently using dumdum bullets, expanding rounds designed to inflict the deadliest wounds possible victims.
With no death penalty and the longest prison term possible in Norway set at 21 years, some Norwegians wondered how best to punish Mr. Breivik.
Hedda Felin, a political scientist and human resources manager, said that giving Mr. Breivik an open platform "was more of a reward than a punishment." He said in his manifesto that he considered killing Norway's top journalists at their yearly meeting, she said, for not listening to him and his arguments.
"He wants an open trial to be listened to, so journalists will now write about his ideas," Ms. Felin said. "A real punishment would be not to write about him at all."
There were church services all over Norway on Sunday. At the Oslo Cathedral, King Harald V and Queen Sonja of Norway, who joined Monday's minute of silence, were both in tears on Sunday, and they were hardly alone. Prime Minister Stoltenberg, who knew many of the dead, said, "We are crying with you, we feel for you." The brief period since the killings "feels like an eternity - hours and days and nights filled with shock and angst and weeping," he said.
"Each and every one of those who has left us is a tragedy," Mr. Stoltenberg added. "Together, it is a national tragedy."
Outside, among the mourners, Tured Mong, a pensioner, said she drove 40 miles with her husband to bring flowers from her garden and a candle she wanted to light. "I only want to lay them down here," Ms. Mong said. "I am sorry for all the parents waiting to find some news who don't know about their children." She added: "I wanted to bring the flowers and light a candle. It's very hard to just sit and watch the TV. I feel like I'm doing something."
Another mourner, Evy Andersen, from Oslo, brought a sunflower from her garden. "I have a niece who has been to this camp twice, and she has many friends who are missing," she said. "She is wondering about them. I did this for her and for myself."
Ms. Andersen said there would be useful introspection for a country that thinks of itself as favored and far from the world's worst problems. "We've been in such a favorable position, we've forgotten a bit about the others among us," she said. "We're a bit spoiled."
Borge Wilhemsen, a Labor Party activist, said he drove for five hours to be at the memorial service, along with his 6-year-old daughter. "You can't take them away from everything," he said, referring to his daughter. "They have to learn that life is sometimes hard. I have not told her everything. I told her that there were two big accidents."
Mr. Wilhemsen said he knew a number of those killed at the island camp. Some of them were as young as 12, he said.
There were also many mourners who were immigrants or children of mixed race. Le Lemeo, a refugee from Vietnam 21 years ago, said: "Norway helped the Vietnamese people to come here. They were very welcoming." Mr. Le said he was a well-known sushi chef here. "I have a job and a family, and I wanted to come," he said. "It is very sad for all the young people."
Marina Heier, 15, is the product of a Norwegian mother and a South African father; she was born here and is a native Norwegian speaker as well as fluent in English. She, too, brought flowers from her garden. "It's important that everyone in Norway stands together," Marina said. "This is a reminder of the danger of hatred."