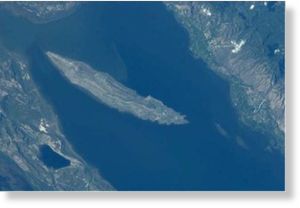 Santo Domingo.- Enriquillo Lake has grown around 9,000 hectares from February 26, 2009, to April 15, 2011, a NASA sensor measurement reveals from space, while the Santo Domingo State University's (UASD) Marine Research Center suggests that two underground currents at the Haiti-Dominican border as the possible cause.
The UASD hypothesis that the subsurface currents from Tierra Nueva and Las Lajas, towns adjacent to Haitian territory, spill their waters into Enriquillo and Azuey lakes, could turn out to be the cause behind the as yet unexplained flooding in both bodies of water.
"That amount of water is still draining towards Enriquillo lake from high territories" in the Dominican Republic, NASA said on its Website, and affirms that the lake's surroundings "have been flooded even more than the floods brought about by the rain sequel caused by Hurricane Noel and Tropical Storm Olga in 2007."
NASA's measurements of Enriquillo's underflow level were done with Landsat and Modis type sensors, which also provided satellite imagery in the study.
Enriquillo received 400 millimeters of water during those rains, and surpass 700 millimeters in the last two years, without any rain in the zone, which reveals the magnitude of the flooding that affects the Caribbean region's biggest lake since 2009.