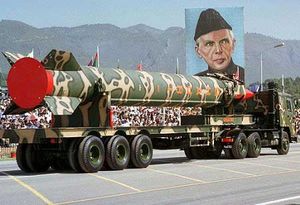 A senior official in President Barack Obama's administration says Washington is suspending a large portion of its military aid to Pakistan.
"They've taken some steps that have given us reason to pause on some of the aid which we're giving to the military, and we're trying to work through that," Obama's chief of staff William Daley said on Sunday.
This comes after senior American officials told the
The New York Times
on Saturday that a total of 800 million dollars in military assistance and equipment could be affected.
Tensions between the two countries increased following a secret US raid on Pakistan in May that allegedly killed al-Qaeda leader Osama bin Laden.
Some White House officials suggest that Islamabad was aware of bin Laden's location.
Anti-US sentiments have grown among the Pakistani government and public since the raid.
Pakistani lawmakers have recently passed a resolution, demanding a review of ties with the US and other Western countries.
Washington is also angry with Islamabad over the expulsion of American soldiers from the country. Pakistan has recently expelled 100 American military trainers.
The US also wants Pakistan to take tougher actions against militants fighting American service-members in Afghanistan.
President Obama has frequently blamed Pakistan for not doing enough to fight terrorism in its troubled northwestern tribal belt along the Afghan border.
The US invaded Afghanistan with the official objective of curbing militancy and bringing peace and stability to the region, however, after nine years the region remains unstable and militancy has expanded towards Pakistan.